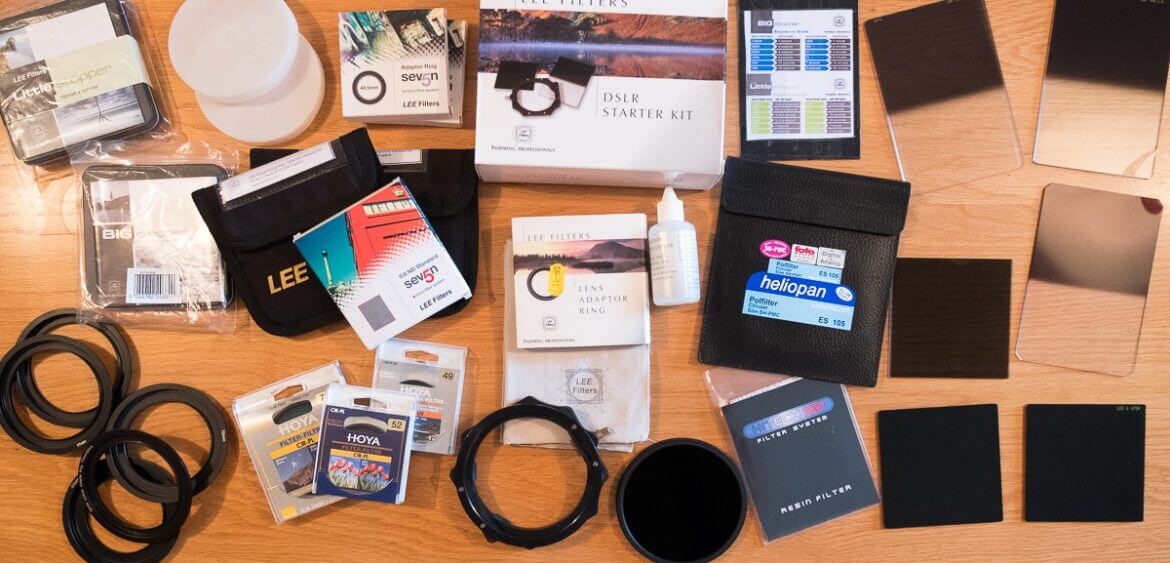 Camera Filters… No not the Instagram or Snapchat filters! Neutral Density Filters or ND Filters that balance your exposure to 18% grey, used by landscape photographers. In this article I review some Kase Filters. Love them or hate them you either use filters or you don't. I am one of those photographers that does.
What Are Camera Filters? and Why Do We Use Them?
Filters are like breakfast cereals there are many different types of breakfast cereals some you like and some you dislike. Filters are not to dissimilar to this analogy with many brands, shapes and sizes, and with time, experience and knowledge you will grow to love some and dislike others.
Do a quick Google search and it can leave you perplexed about what filters are or how or what they even do! it makes you feel no better informed about where to even start…
Before we start I created the below image comparison to give you some heads up about what were talking about. Below is a preview of what a typical landscape scene could look like with and without filters. You will notice without filters that the sky is very bright and over exposed. What your camera will do is process that scene as 18% grey and give you your shutter speed (if shooting in Aperture Priority mode) With the correct filter you can control the bight sky and balance the overall exposure very easily. For this example I used the Kase Wolverine 1.2 ND Soft Grad Filter. As you can see in the Lightroom settings these are straight out of my Fuji XT-2 with no processing and the only thing that has changed is the shutter speed and white balance (Auto White Balance Mode)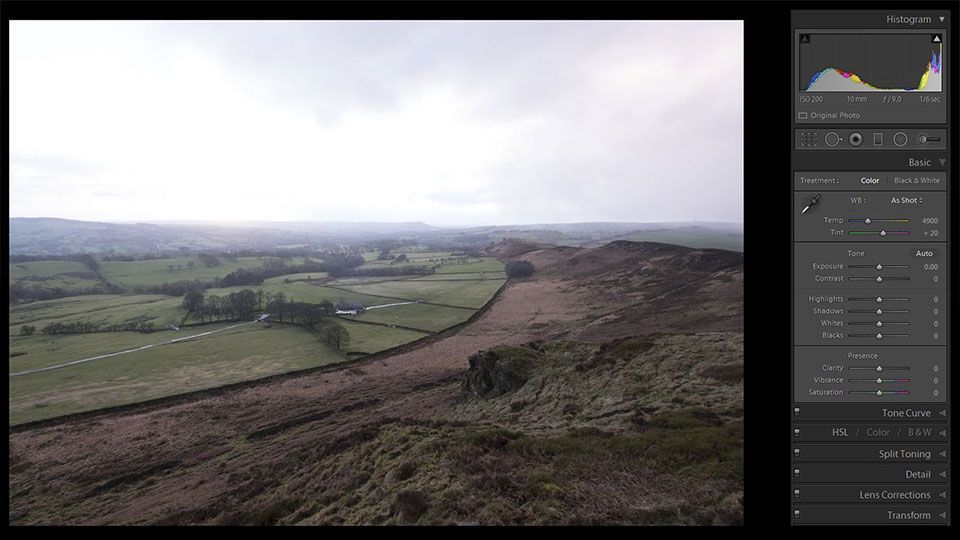 When I was starting out 5 years ago. I recall, starting out without any filters what so ever – in fact I didn't even know what they were to be honest! I struggled, it was hard to balance my exposures or get those silky smooth water shots that every one loves and I quickly learnt what filters could achieve from reading blogs from other photographers.
Eventually I took the plunge and came across some cheap Cokin filters on eBay – very reasonably priced so I decided to purchase them. Happy to own a set of filters I started to use them only to find that I struggled with a few things vignetting was one problem on my wide angle lens as I loved shooting wide angle and the second issue was colour cast over the shot from the resin plastic was not great.
As time progressed I knew I needed to invest some serious cash into the filter department and back then Lee Filters were about as good as it got – a costly purchase this time but I took the plunge again and purchased the Lee Starter Kit and a couple of Natural Density (ND) Soft Graduation Filters to get me going. It set me back a few hundred pounds if I recall but I knew I owned a tried and tested filter system endorsed by the very best professional landscape photographers.
After a few years of happy shooting I had built up my filter set purchasing a Lee Big Stopper, Lee Little Stopper and the Heliopan 105mm Slim Circular Polariser at £210 alone its still the most expensive filter I own to this day! I must have invested close to £1000 in filters alone. (dont tell the wife)
Fast forwards 5 years to 2017 and I was looking to replace some of my filters, reading articles online about some of the Chinese brand filter companies like Haida, Nisi and Kase which also keep popping up on my social media stream as fellow photographers switch from popular known brands and share their images, Im keen to know how they perform compared to my Lee Filters. I also stumbled upon an article by Tim Parkin comparing 10 stop ND filters over at On Landscape which compared 14 different brands of filters and was impressed especially with one brand – Kase.
So late September 2017 I decided to invest in a complete new filter system and purchased a full set of the Kase K100X Filter System and various filters.
The Kase K100-X Filter System
I didn't purchase one of the pre-assembled kits from Kase, (Entry, High End or Master Kit) I decided to go bespoke and order a similar setup to what I currently owned with my Lee Filters and also try some of the Reverse and Center Grads from Kase at the same time as Lee were not making these and id heard good reviews about them.
I ended up placing 2 orders in the end which worked out to be more than the Master Kit. And because I spent rather a lot of cash the kind sales man at Kase threw in the Kase Filter Pouch for free!
Typically though this is what you would get as standard in the K-100-X Filter System Kit as the image above shows.
K100-X holder – attaches to the filter adapter
Geared adapter rings: 77-86mm & 82-86mm – attaches between your camera lens and the K100-x holder
Step rings: 67-82mm & 72-82mm – used to bridge the gap in lens adapter sizes up to the 86mm required for the K100-x holder
86mm slimline CPL (polarising filter) – screws onto the filter adapter when required
Then you can start looking at specific filters. This is everything I purchased – prices as of September 2017
| | |
| --- | --- |
| K100-X Filter Kit System | £110.00 |
| ND1000 – 10 Stop Filter | £140.00 |
| ND64 – 6 Stop Filter | £140.00 |
| 1.2 GND Soft Grad Filter | £146.00 |
| 0.9 GND Soft Grad Filter | £146.00 |
| 1.2 GND Reverse Grad Filter | £152.00 |
| 1.2 GND Center Grad Filter | £152.00 |
| Filter Holder | Free (£30.00) |
| Total | £986.00 |
Very expensive initial outlay I know but you could start small by purchasing just the K100 Filter Kit Holder and maybe 1/2 filters at a time. For example I don't live by the coast so don't need any Hard Grad Filters.
Unboxing & Initial Thoughts of Kase Filters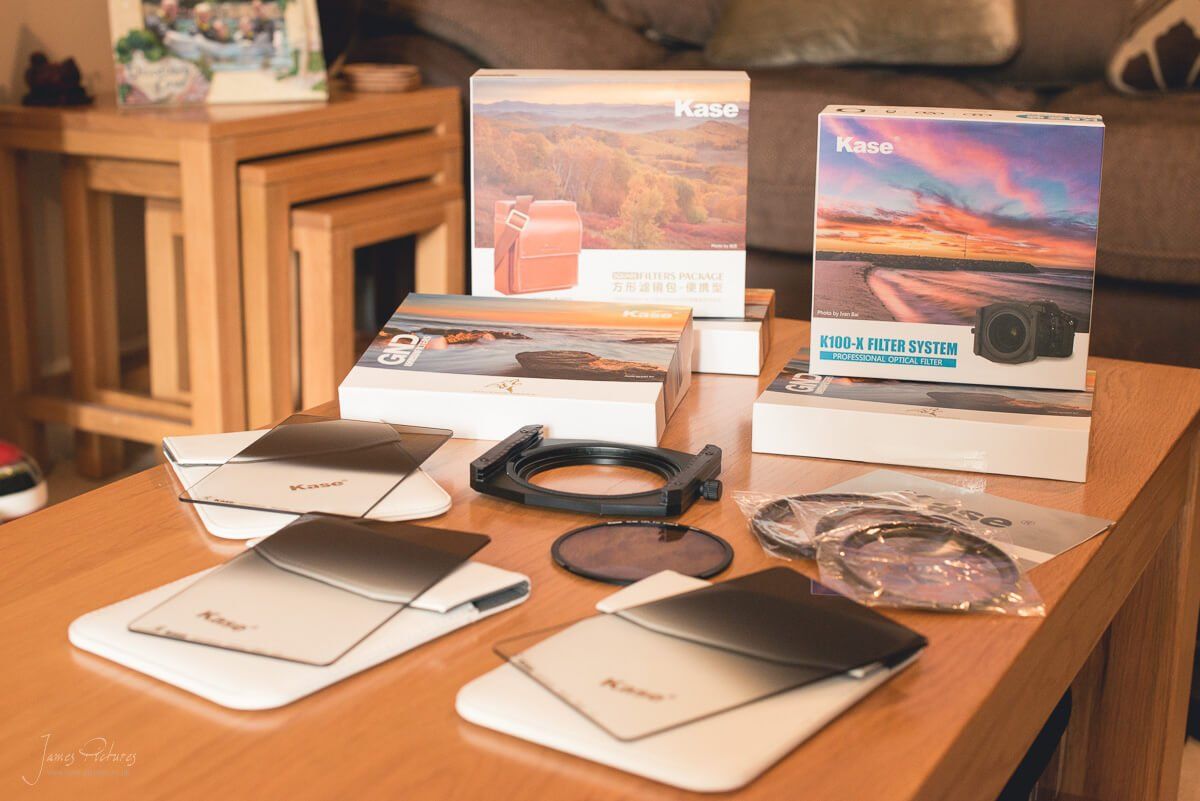 My new filters arrived within the week from China and I was really excited to get my hands on them. Unboxing everything I was instantly super impressed with the presentation and packaging. Opening each package and studying the quality and the moving parts I was very impressed with the build quality. Everything seemed highly manufactured and attention to detail was of upmost quality. I can only describe it as like opening a new iPhone several times!
My only criticism of all the equipment that I purchased on initial inspection would be of the Kase Filter Pouch.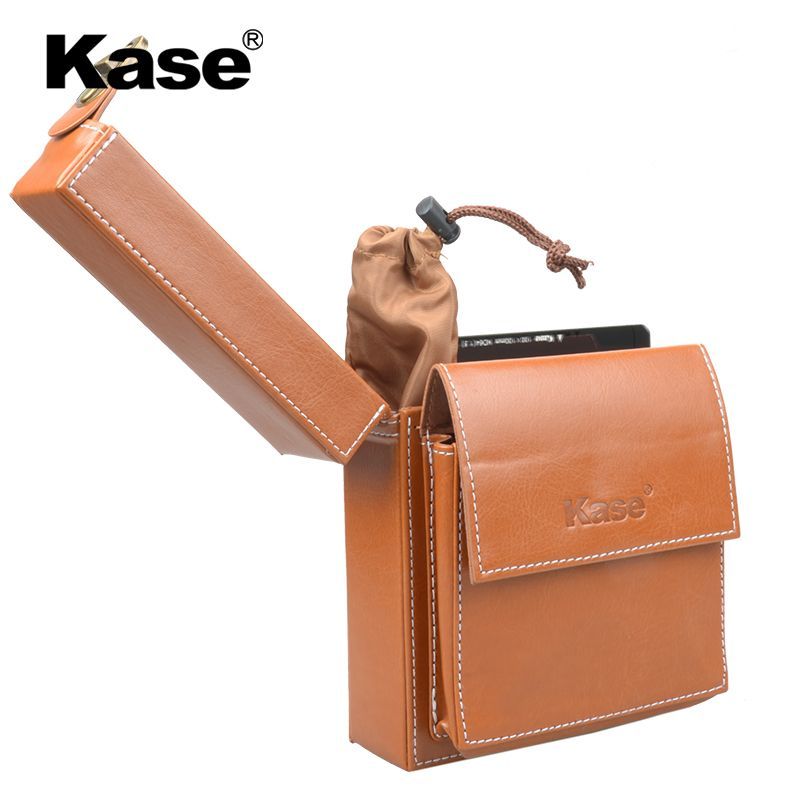 I cant really complain though as it was given to me for free. The case is of leather material with a fold over cover and metal locking latch. It can hold 5 large 100mm filters, the Kase Poloriser and the Filter Holder on the outside.
It also has a small pouch for a cleaning cloth. I thought the pouch was somewhat cumbersome and heavy compared to what I was currently using. I have used all types of canvas material filter holders, I have used many and even wrote a quick review of Lee vs Click Elite. I currently use a Mindshift Hive filter pouch pictured below that holds 6 large 100mm filters and 6 smaller 82mm filters and is very lightweight. Nevertheless I would use the Kase Filter Pouch and see how I got on with it.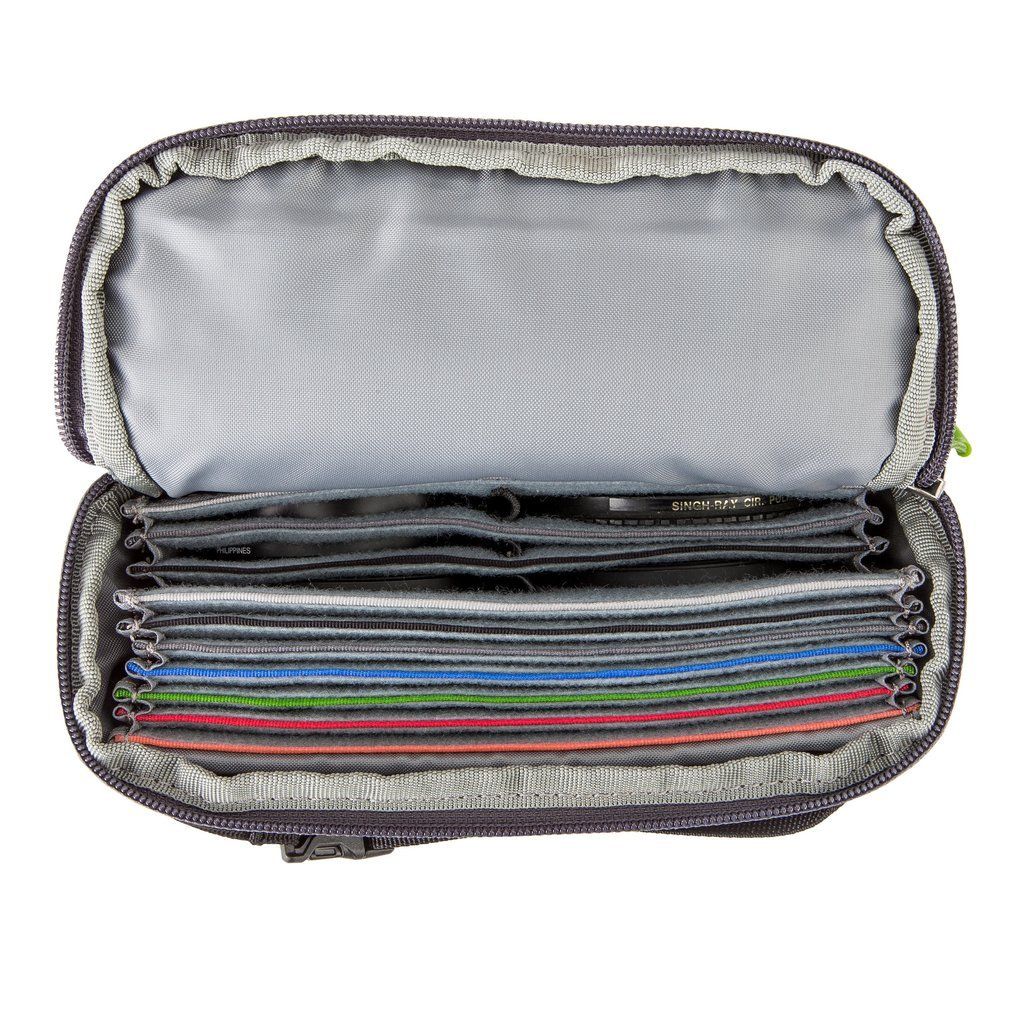 First Use of the Kase Filters
My first outing with the new filters was local to Manifold Valley in Staffordshire and it was an unforgettable morning for me personally as I had planned this shoot for many years in these conditions. I also invited Jason Bould from www.73in73.com to tag along who was shooting 73 locations in the Peak District for some amazing charities – he blogged about this particular location here I think he was impressed!
As you can see when the weather conditions come together and a location that you have had in mind for a very long time, it really all makes it worth while getting up early and just admiring the stunning views. Unfortunately I really didn't need my filters that morning as the sky was cloudless with nothing to hold back as the sun rose at 90 degrees to my location. I did have a little play though as it was my first time out of the house with the Kase Filters and holder.
I came away with some truly stunning shots that morning – here is one. No filter needed.
Positives vs Negatives
As I got out more and more and actually started to use the holder & filters in their environment it became apparent how darn good the glass was – the glass is impeccable.
Positive Points
Zero colour cast from the filters
Extremely strong & durable system
Scratch resistant glass
Easy to wipe clean and keep clean filters
Water rolls of the filters
Very easy to adjust the poloriser by simply spinning the wheel on the side of the filter adapter
Negative Points
The locking latch on the filter pouch unfortunately came undone in my bag. Filters everywhere in the bag. Luckily none scratched or damaged. It wasn't a one of incident either as I caught it a second time before the filters actually fell out. Its probably something to do with the way I placed the pouch in my bag as the catch lies against my back so the pressure against the latch could be unlocking it. Nevertheless I think id already decided on initial hands on that the filter holder wasn't for me.
Tricky to change the polarising filter when swapping from lens to lens or simply removing the polorising filter when not required. Especially as I have large hands. The slimline CPL polarising filter protrudes just 1 millimeter once fitted above the filter adapter so can be very tricky to remove it as the filter adapter teeth also wants to rotate/spin – you have to try and stop the teeth from spinning on the filter adapter whilst removing the polarising filter.
Conclusion
I'm proud to say that im a community advocate for Kase Filters. I purchased my Kase Filters using my own money before I was asked to be an advocate and this review is 100% my honest opinion. – I don't receive anything for being an advocate, its more of a personal achievement which im very proud of.
The filters were a hefty investment for me as a hobbyist landscape photographer and also somewhat daunting switching from my proven Lee Filters which I have used for just over 5 years now. I'm very happy I made the right choice and im very happy with the setup, and im even more happy with the quality of the glass which is just flawless.
Whilst I said changing the poloriser was tricky it certainty isn't going to hinder me. I just have to remember not to over tighten the poloriser when fitting it so it can be removed easy.
At the time of writing this review Kase have announced that they are producing a slimmer version – The K100 Slim which looks very promising indeed. Some users gave some feedback that they could not remove the 100 x 100 square filters easily but I never really struggled with that as my Lee Filter holder is the same design. The K100 Slim looks to rectify this problem. Its also great to see a company that listens to customer feedback and evolves a product – well done.
Would I recommend Kase Filters? Absolutely no hesitation at all. They are outstanding.
More Hands on with the Kase Filters
As I get out some more Ill update these images all taken with the Kase Wolverine Filters.