I decided to put together this comparison of two filter holders that I own. The Lee Filter Holder Vs CliK Elite Filter Holder after using the Lee Holder for over 12 months now, I just recently decided to try the CliK Elite Filter Holder after my Scotland Photography for a Week trip, I bumped into a photographer that was using the CliK Holder and it looked great for my set-up.
I am in now way affiliated to either of these pieces of kit so what I write is my own personal opinions.
I purchased my first batch of Photography Filters in January 2012 and they were by Kood I soon realized there limitations and required bigger filters for wide angle lenses. I learnt my lesson after spending £60 on filters and holders which I still actually have gathering dust on my office shelf today.
I decided to go for a well tested filter brand, Lee Filters.
I initially started out with the Lee Foundation Kit which consisted of The Filter Holder, Adapter to mount it to the lens and then a filter, Because I wanted to shoot wide angle I required  big filters and they were 150mm x 100mm or 4″ x 6″ so not the smallest of filters.
It wasn't long before I had 2-3 filters and no filter holder, just a 3 filter sleeve or cloth as Lee supply… I needed a filter case if I was to be out shooting landscapes and wanted to protect them!
Those of you that don't know a 150mm x 100mm filter can cost from £100 – £150 so there not cheap and its wise to protect them, they are either glass or resin based depending on the manufacturer and they simply slide in front of your camera lens to equal the exposure of the bright sky so you get an overall better looking photo, that's it in basic terms.
Side by Side
Lee Filter Holder
CliK Elite Filter Holder
Price
£35 As at March 2013
£28 As at March 2013
External Dimensions
L x W x D
210mm x 150mm x 40mm
180mm x 130mm x 40mm
Holds
10 filters up to 150mm x 100mm
7 filters up to 150mm x 100mm
Secures Filters Via
Zip around Wallet
Velcro Flap Sleeve
Material Outer
Hard wearing canvas with reinforced edges
Hard wearing canvas with reinforced edges
Material Inner
Soft velvet type pages
Soft Felt type sleeves
Viewing them side by side you can see straight away that the CliK Filter Holder is somewhat smaller in design, and only holds 7 filters total, but makes up in the ease at which you can access the filters.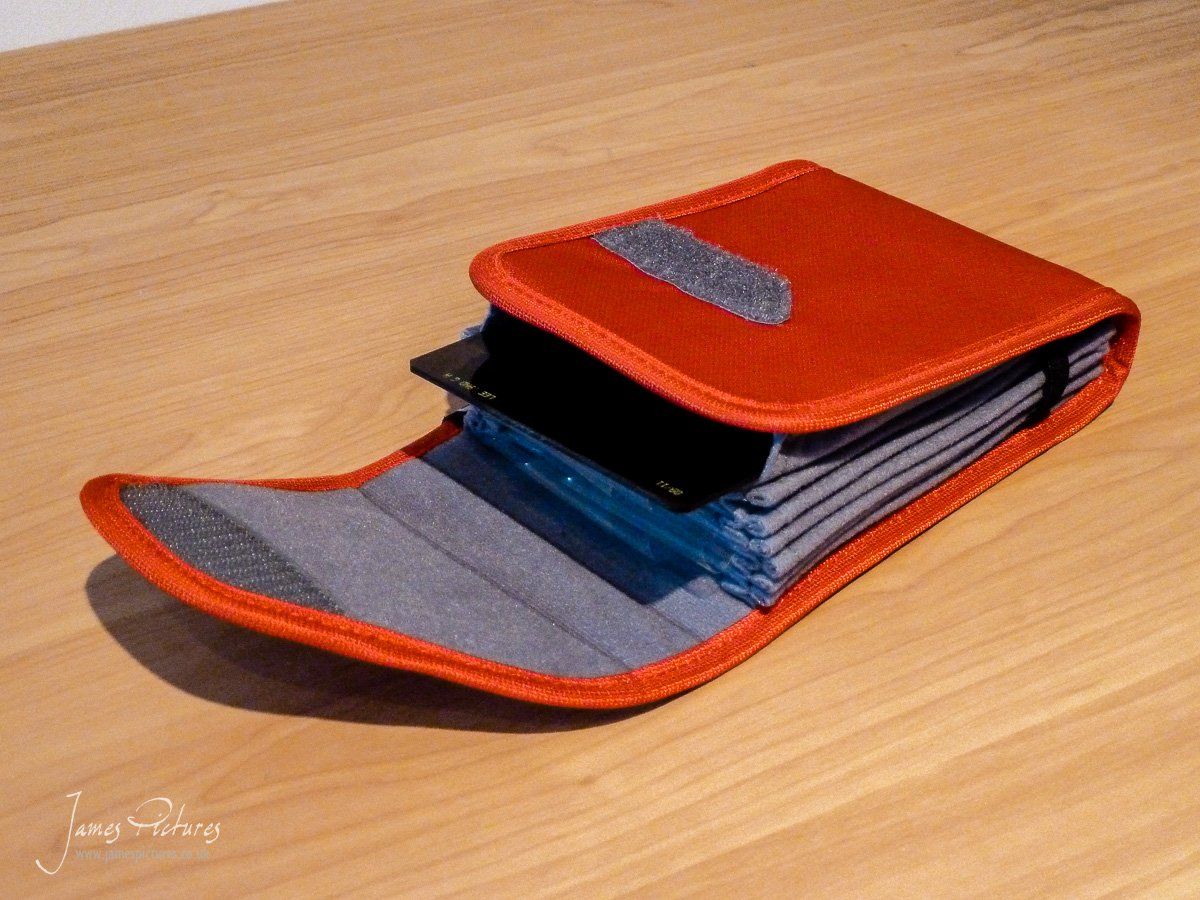 I also liked the tabs on the CliK Holder so you can access the right filter faster, I would always in the past using the Lee Holder, be flipping the pages like a book peaking into the sleeves trying to see what filter is where, and essentially slowing you down at a critical time.
The zip on my Lee Holder broke after a few months, I don't know If I was being heavy handed or it got caught and I forced it, I just don't know, what I do know is that when its cold and you have gloves on it can be a pain getting into it.
I'm yet to try the CliK Holder with gloves on but I should imagine it would cause many problems.
My only worry about the CliK holder is the Velcro holding it in place, I currently have 5 filters in the holder, it holds 7 and already it came loose on its own accord so I might have to start securing it with a elastic band of some sort.
Both Holders have there pros and cons
Lee Filter Holder
Pro's
Holds 10 filters
Very robust feeling
Con's
Hard to access the right Filter in the time of need
Expensive
Large in design
CliK Elite Filter Holder
Pro's
Small in design
Easily access Filters fast
Cheap
Very robust feeling
Con's
Velcro Tab to secure the filters does not feel very strong when case is full of filters.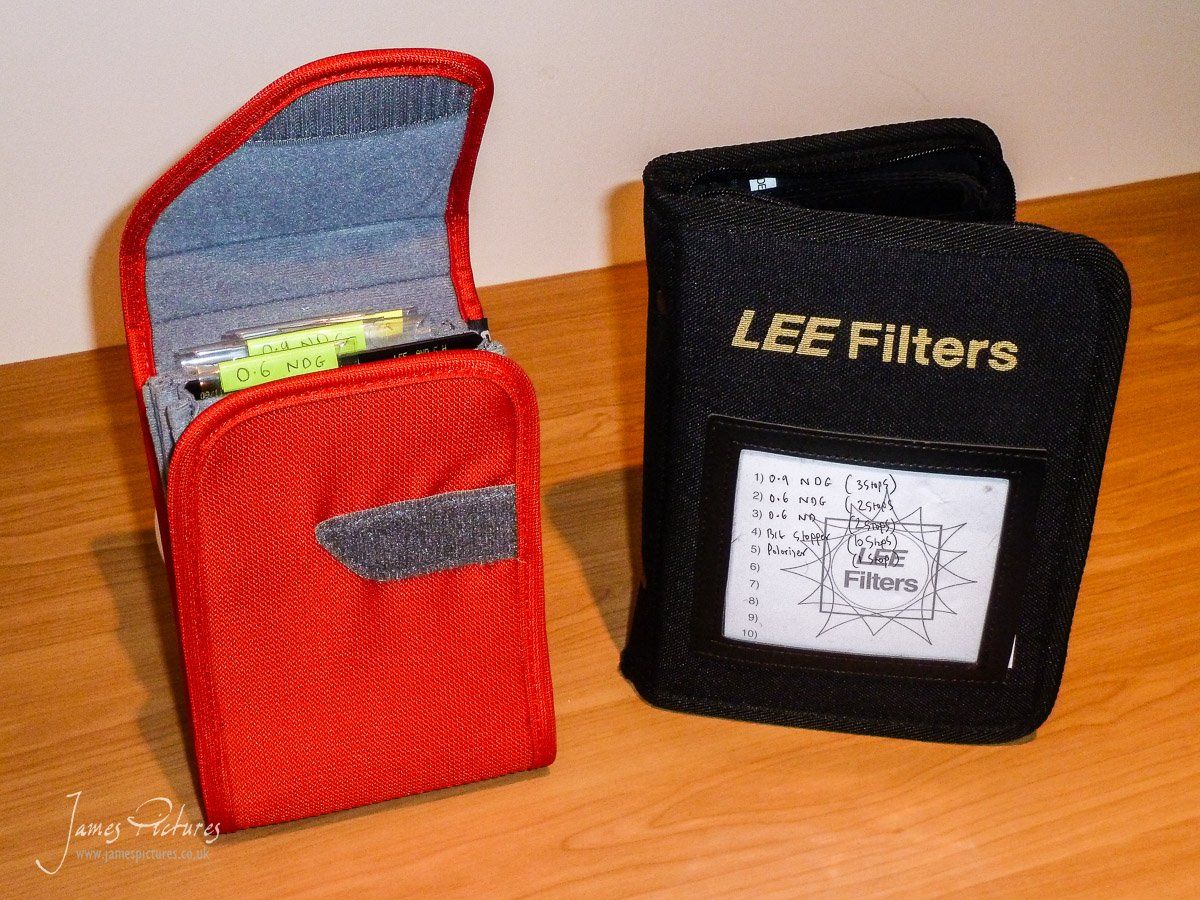 Conclusion
If I walked into a shop tomorrow and was to ask for a filter holder for my 150 x 100 filters and only had the choice of either the Lee 10 sleeve filter holder or the CliK 7 sleeve holder after careful consideration.
I think I would choose the CliK and not because the zip broke on the Lee one, but because I prefer the ease at which I can get to the right filter in the least amount of time, swapping filters on your set-up needs to be fast as light can change fast and there is nothing worse than fumbling around for the right filter and unfortunately the Lee filter holder your filters sink in the sleeve and can not easily be grabbed or differentiate what filter it is your grabbing, so for that reason the CliK one wins.
I will use the Clik one now for the next 12 months and see how it goes and if there is any problems I will update this post.
Thanks for reading, Please do not pinch the images they are copyrighted to me, if you would like to use any of my images please contact me