So my camera is just over 12 months old and I have been having problems with my Nikon D7000 Oil on Sensor Problem.
The recommended time for a sensor clean is approximately every 9 months or until you start noticing dust / dirt on your photos, or so Google would have me believe, again im no expert but the main point to take from this sentence is "or until you start noticing dust / dirt on your photos". Then action is defiantly required!
I had started to notice the problem on my pictures a few months ago and was cloning it out in Lightroom but 2 weeks ago after a sunset shoot I got home to view the pictures and was horrified as the dirt / dust on the images was just so bad I was having to delete them, so I started to investigate more as I read a post regarding the new Nikon D600 oil on sensor problem, I started to find groups on Flickr and articles on the internet about the Nikon D7000 oil on sensor problems.
Here is one of my pictures that I saved for reference that is potentially useless and got me looking for answers. What I did notice whilst browsing that all of the spots were of similar sizes and were new or seemed faded, but all similar sized.
I found several people in groups on Flickr uploading pictures of the oil spots and the lengths they had to go to to get Nikon to do something about it, but as im new to photography I wanted to make sure 100% that this was oil and not dust before complaining so that I didn't make myself look silly.
I googled "Dust on camera sensor" and looked at some images and to be honest they all looked very similar so I decided to take my camera to an Approved Nikon Repair Centre luckily I have one which is only 10 minutes drive away :)
I explained the problem and asked them if I could get it fixed under warranty.
They said they would have a quick look at the camera and tell me if it was dust or oil, he also explained that Nikon would not clean the sensor under warranty.
So no sooner he had taken the camera away he was back within 60 seconds to tell me that the technician had inspected the cameras sensor and it was indeed dust and would only believe 3% of what I read on the internet, typical I thought, but im a newbie to all this but there was a little bit of doubt still so I asked if I could still send it to Nikon for a second opinion anyway.
I could tell the chap was annoyed but pleasant at the same time he said our Nikon collection is every Wednesday your more than welcome to bring it in on Tuesday and well get it sent off for you.
My next little dilemma was I had a week of so I wanted to go to Scotland with my beloved camera and didn't want to send it off just yet but I knew that if I got any decent shots they would be no good because of the dirt on the sensor, so I swallowed my pride and asked how much it was for a sensor clean, initially they quoted me £50 +vat so I was annoyed but had my hands tied, so I had it cleaned not on the same day I went away and booked it in.
Whilst I was at home I decided to do a little test, and some more reading.
I found a very cool website explaining how to do a quick sensor test, you can find it here >> Inspecting the sensor
I then took an image and examined it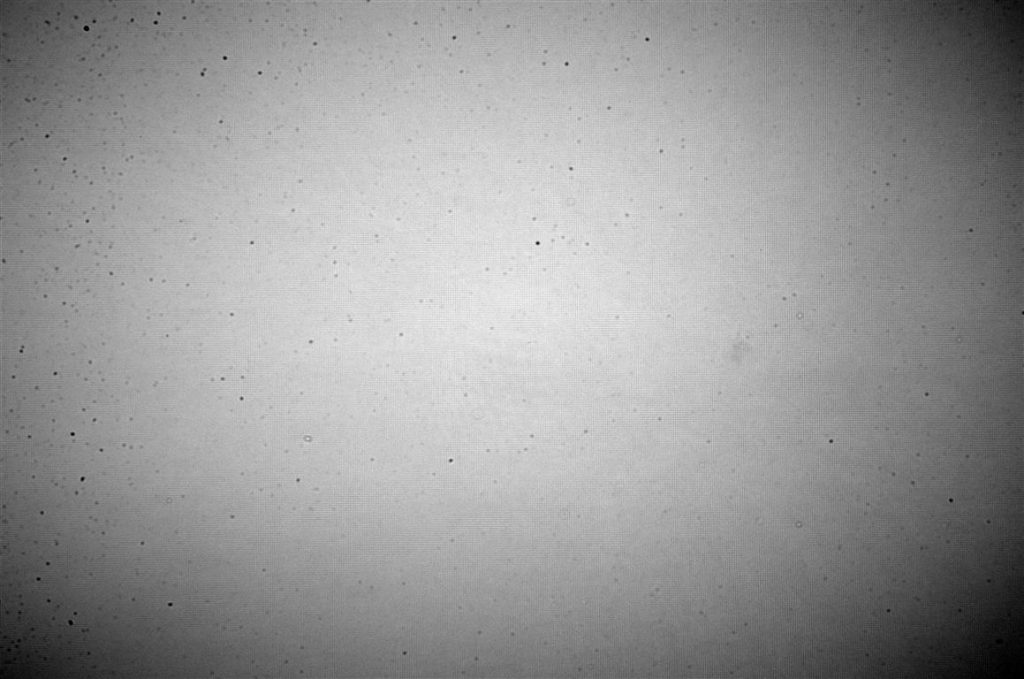 It was filthy, I also noticed on the newer darker round spots that there was a white "halo" around the spot, indicating a type of grease or oil ?
So I then got my Giottos Air Blower out thinking that if its "dust" some of it would shift if I blew on the sensor, so holding the camera upside down with the mirror up I blew onto the sensor, this was the image after blowing on it.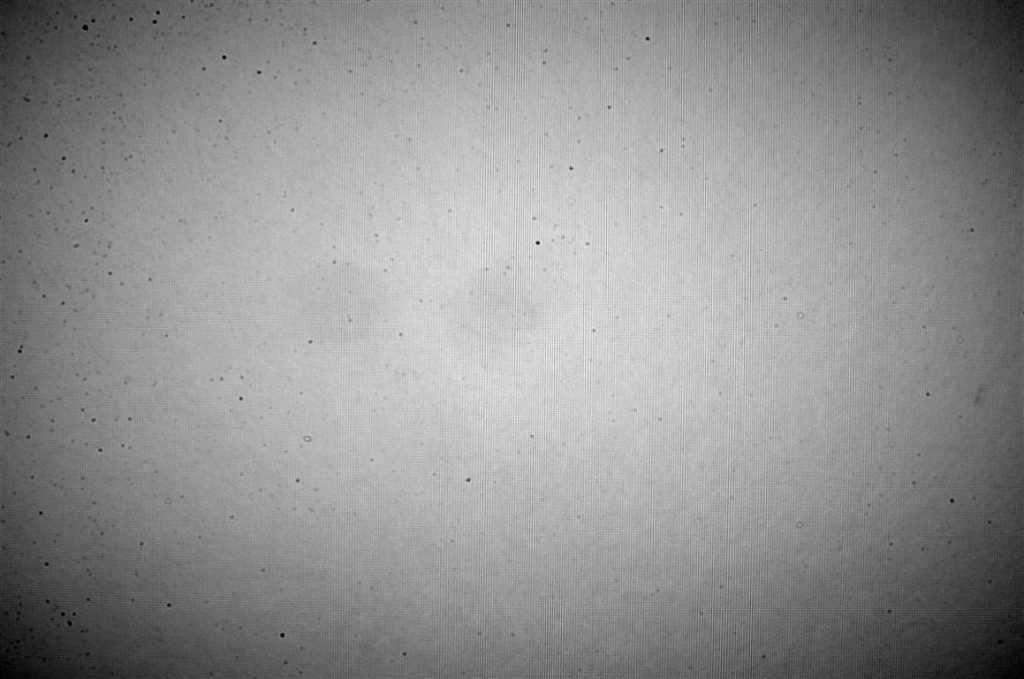 As you can see its pretty much identical I cropped the top left corner and I was able to notice 4 spots had moved in total it was starting to look more like oil more and more !
So the day came to take the camera in for a sensor clean, I printed of the 2 pictures and showed this time to a lady and whilst she was sympathetic I explained my case that I needed the camera for next week and couldn't afford to send it of, but I would like to.
They charged me £36 total for a cropped sensor clean so I was happy in the knowledge that the sensor was good and if i got some nice images they would be muck free :)
On picking the camera up from the shop, the same lady told me they had noted on the invoice "We note faint marks on the sensor Do not show on image" I asked what it was and she simply smiled and said "probably what you were complaining about, and you should book it in to go to Nikon on your return"
Once I got home I ran the same test, ISO 100, F/22, 2 second exposure, Manual Focus moving the camera towards the screen over the 2 second exposure.
This was the result after the sensor clean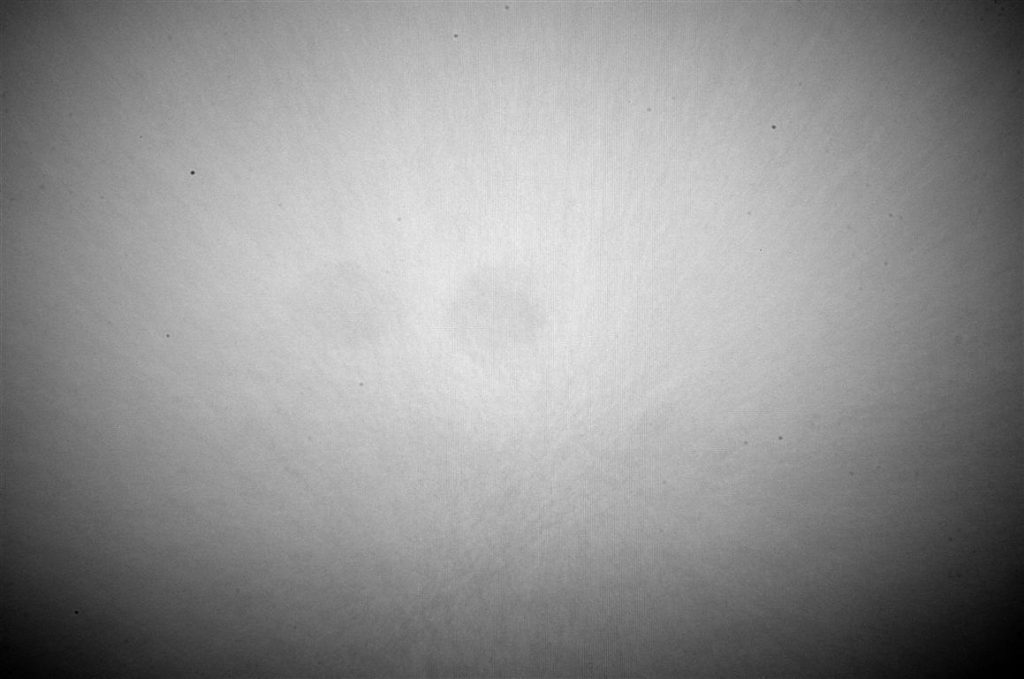 Defiantly not perfect, I wasn't expecting perfection though, and you can still see faint spots I wonder if it was tricky to remove it all ? And how come there are a couple of new looking spots, ive only fired 1 picture ???
So I went on a Sunrise Photo Shoot in the Peak District and fired of over 100 exposures and ran the same test again when I got home and this was the result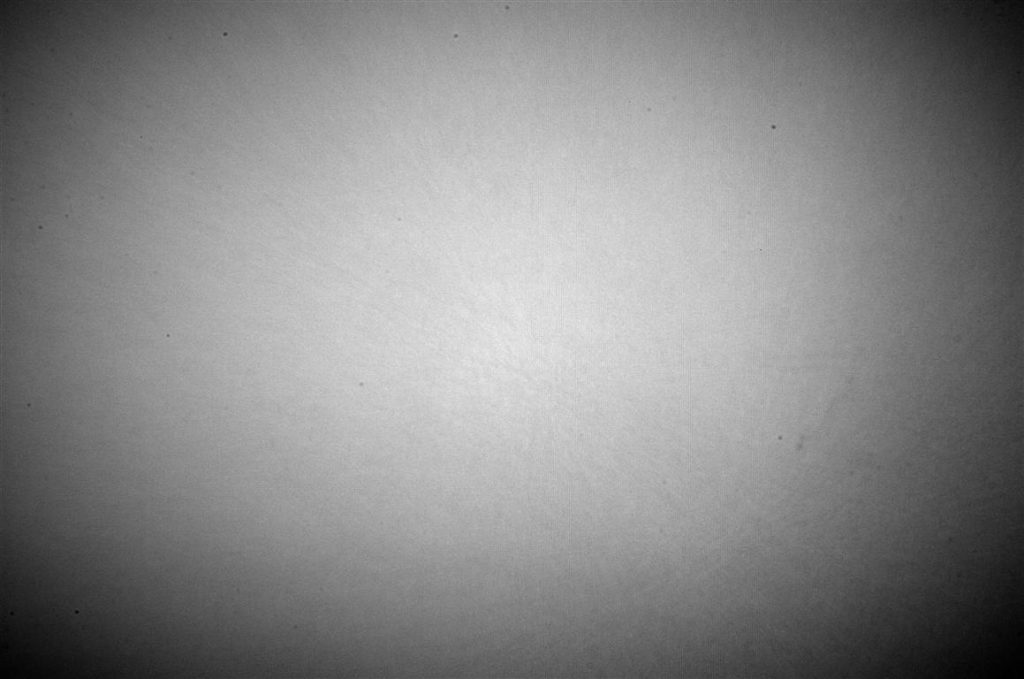 As you can see the initial spots straight after the sensor clean have faded slightly and there is a few new ones, not many but there is still some new ones.
I'm defiantly taking the camera to be looked at by Nikon after my week away, from reading other peoples experiences once they change the Mirror Box it seems to resolve the problem, so fingers crossed in a few weeks all this will be history.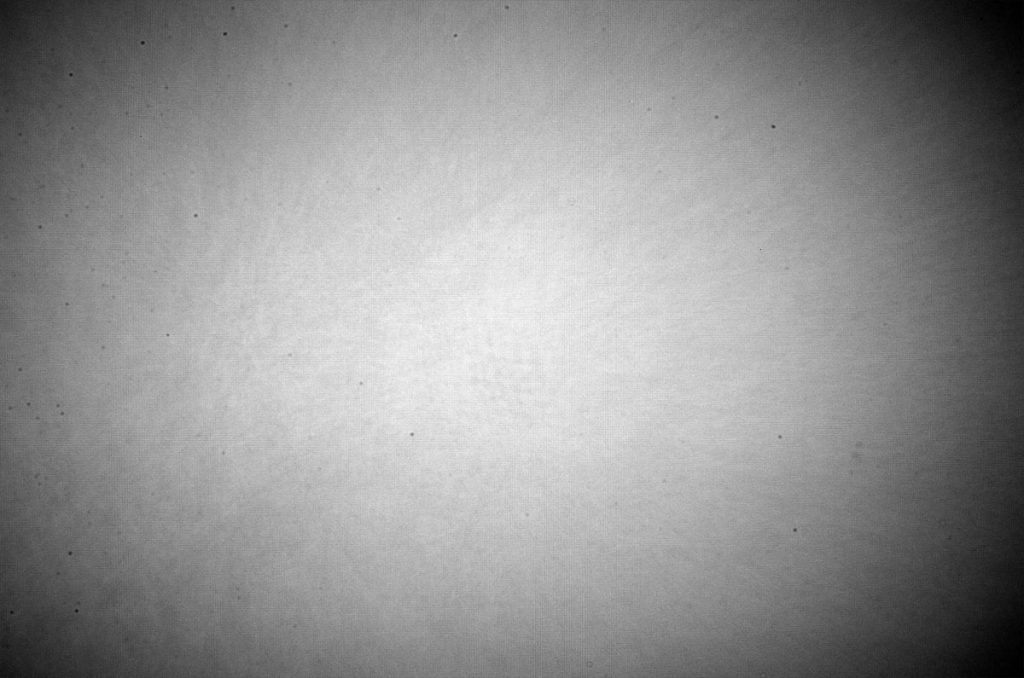 Update 03/12/12
After a long week of photography and shooting over 1000 images I have done another sensor test (see image above) and it would seem that the oil is still getting on to the sensor. I have been doing some more landscape shoots and noticed a few spots in the sky of my recent exposures so did the sensor test as described in the link above. The image below is the result and as you can see there is lots of oils spots back on the sensor, so im sending it of to Nikon tomorrow. I want it sorting, its been 2 weeks and its needs cleaning again.
Update 13/12/12
Camera has now been away for 9 days, and to be honest its killing me, the weather here in the UK is having a lovely frozen spell, white trees, freezing fog and snow on the high ground and I wanted to get out and shoot some landscape but I cant.
I was also worried that It wouldn't be back in time for Christmas Holidays and noticed on the www.hlehmann.co.uk website that they closed down from 22nd December – 3rd January so I decided that I would need to get it back before they closed up for Christmas.
I have just had a little chat with the Approved Nikon Repairs local to me www.hlehmann.co.uk who have been great. They do Nikon runs to the Nikon Service Department in Kingston, Surrey every Wednesday so I asked them to bring the camera back to there shop on the 19th December regardless of whether it was repaired or not so I could use it over the festive season.
They phoned the Nikon Service Department for an update and my camera was fixed late last night (just after they left!!) so it will be defiantly back on the 19th December (hopefully fixed)
Update 20/12/12
2 weeks without my camera at Christmas, not good when you have a young family, I missed taking pictures of both of my daughters in there School Christmas plays. I also missed the chance to get out in some amazing snow we had last week and when I had a week free, I instead wrote 3 website articles!
So I got the camera back and was a little optimistic about the repair hoping that it had been resolved something seems a miss though, on the workshop report form it doesn't say much at all, the repair details just says:
CCD    CX (C= Clean X= Check)
Test Fully
Now to me that looks like they have cleaned the CCD and checked it, and then fully tested the camera. (not being funny but I paid to have that done 3 weeks ago by the approved repair centre listed above)
I decided to do the exact same test as all of the above tests for consistency, and low and behold there is what seems to be oil on the sensor already straight back from the Nikon Repair Centre…. what the hell!!! im not impressed to say the least.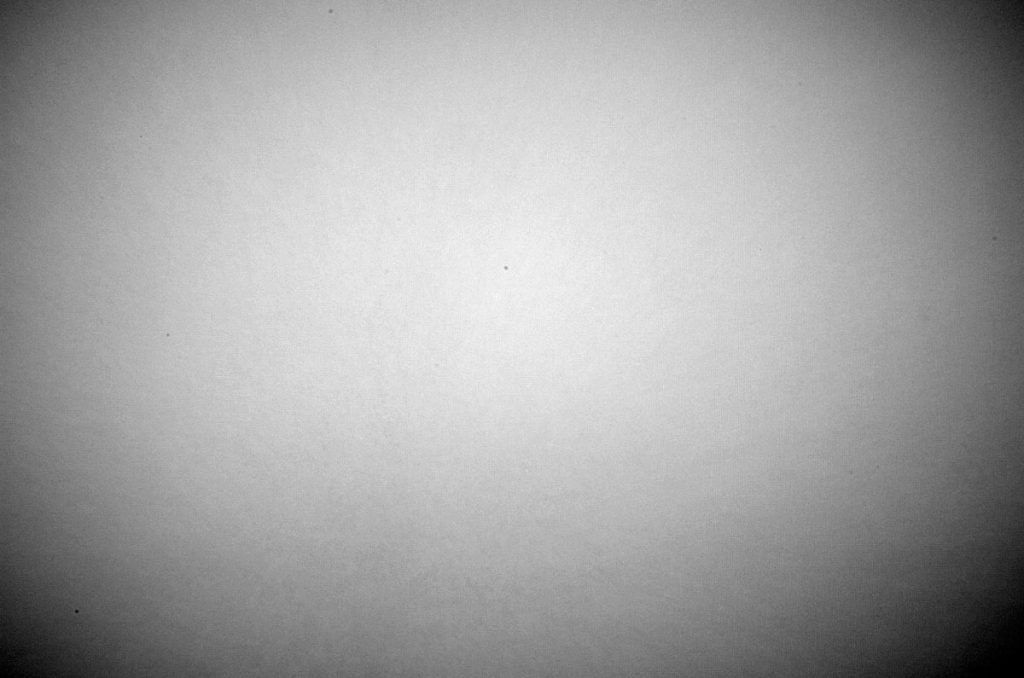 Update 20/12/12 – Continued
I will use the camera for 200 more exposures and do the test again, if it is still throwing oil onto the sensor I think its time to return to point of sale as a faulty product.
Update 23/02/13
So The camera is away again back to Nikon as I type. I sent it back in January 2013 as the sensor was covered in oil again. I was impressed with the turn around from Nikon Warranty, all of 5 days from me posting it to them to getting it back. I was however al little less unimpressed with the outcome. All they did was clean the sensor and said that the oil was in fact dust !!
I wasn't impressed. This is a picture of the sensor straight back from the 2nd warranty return, and you can see there is still oil on the sensor!!
I let it go, tested the camera and there was already oil on the sensor so I knew the problem had not been resolved, it would return for sure as and when I kept using it, and sure enough… I was right.
I have just returned from a week in Scotland where I took over 1600 exposures and the sensor on my D7000 was covered in oil again!! I boxed the camera straight up and fired it back to Nikon Warranty for its 3rd time.
Just got to wait for it to come back, but from my previous experience, and the fact Nikon UK have just released a statement about the D600 Dust on Sensor and not Oil issue when it is in fact Oil, I find it hard that there going to admit there is a problem!
I know for a fact its not dust, because when you use the blower on the so called "dust" the oil smears onto the sensor !! and none of the "dust" moves either, as if it is stuck to the sensor…
Having the same problem ? Please leave a comment !!