Parking the car at Pyms Chair car par which is 5 miles North West of Buxton in the Peak District, I was heading for Sunset at Shining Tor in the Peak District which is the 5th tallest hill in the Peak District and also the highest point in Cheshire at 559 meters.
Shining Tor is a hill in the Peak District of England, between the towns of Buxton and Macclesfield, lying on the border between Derbyshire and Cheshire. Its summit is the highest point in Cheshire. Wikipedia
The short 20 minutes walk or 1.8 miles from the car park (Pyms Chair – Cats Tor – Shining Tor) is relatively easy and incorporates Cats Tor at 519 meters and is partly also easy because it has been paved due to erosion in the past, on this visit though there was still heavy frost and ice on the ground making the path more like an ice rink in some places!!
This is a picture looking back onto Cats Tor with Shining Tor Behind me the sun was starting to cast some wonderful light and shadows as I walked towards the summit.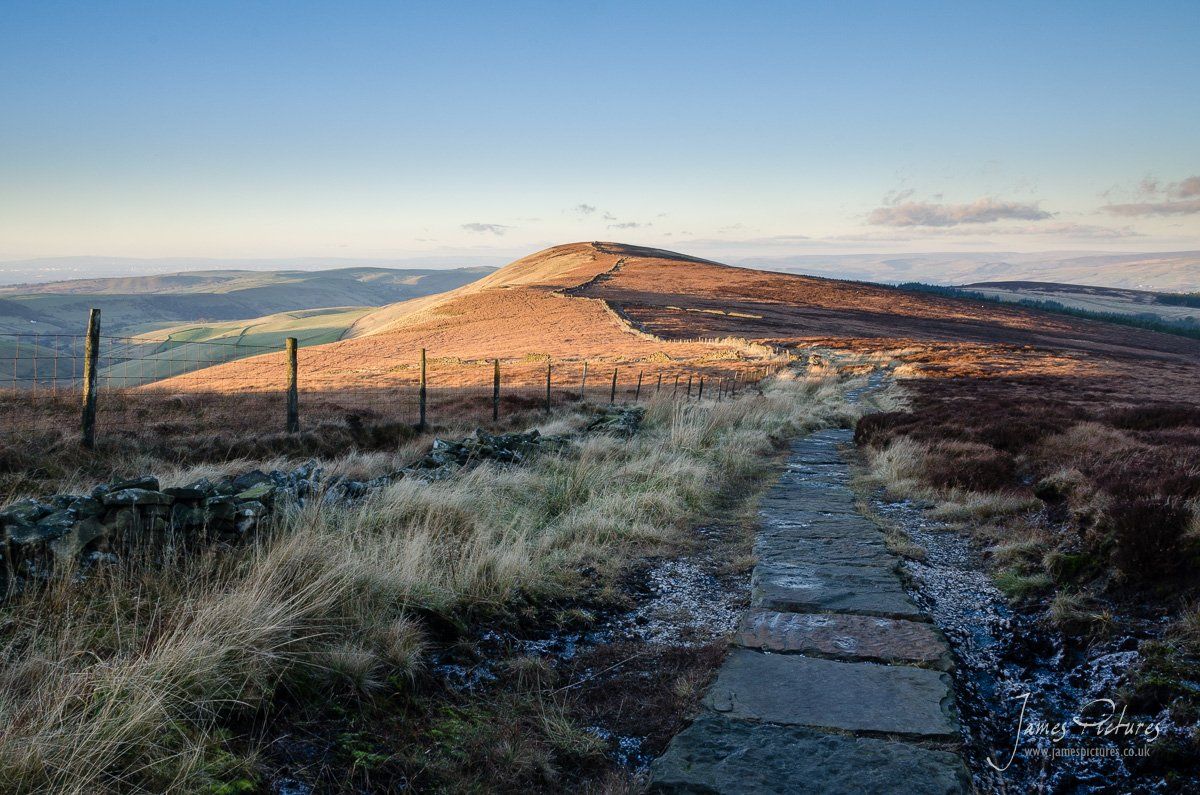 I was now half way to Shining Tor and worked up a sweat I even had to take my hat of carrying all my camera kit and tripod, I was very peaceful as I walked  alone and didn't see another person along the 1.8 mile walk but once I got to the summit there was already a young couple taking pictures on the Triangulation Pillar.
As I got chatting the young lady shouted over that the best view was from down here, and she was right.
Looking out over the A537 Buxton to Macclesfield road which is also rather famous for being one of the best biker roads in the country snaking and twisting to our front, and Macclesfield Forest in the middle distance.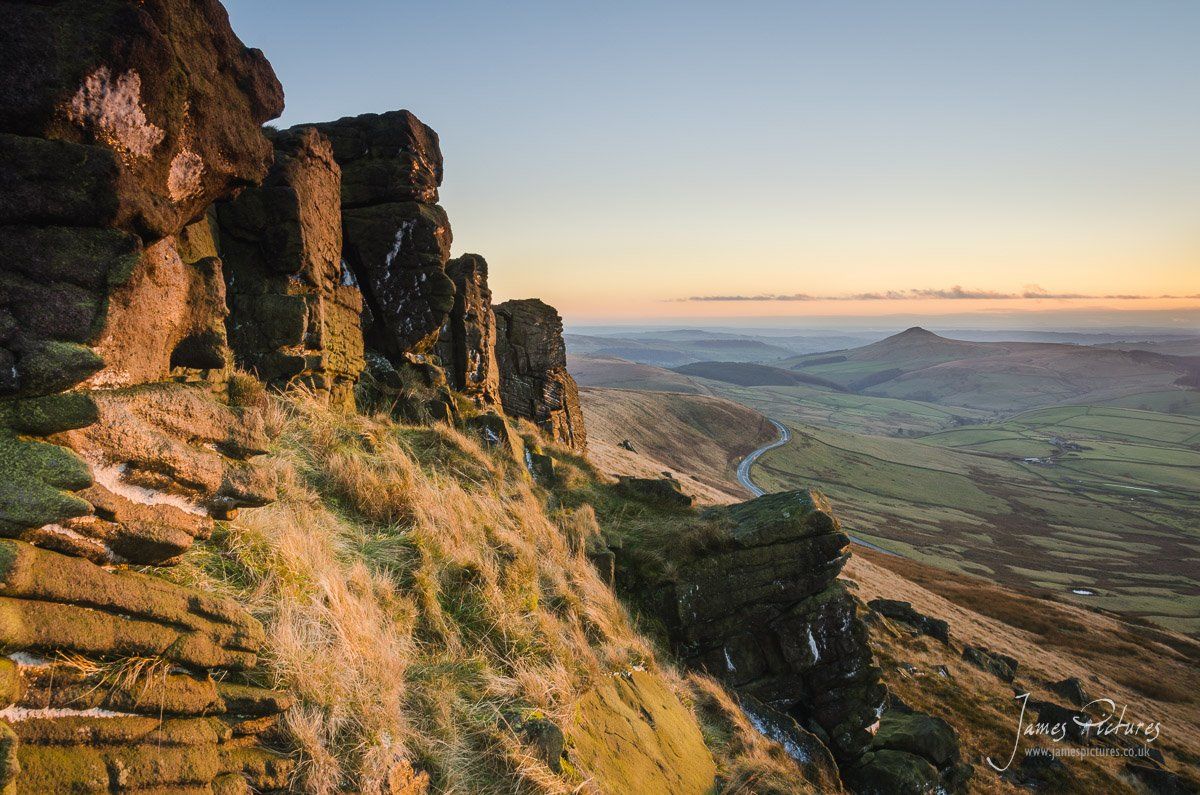 I could also see a distinctive large hill in the far distance but as I didn't have a map on me so I couldn't look to see what it was, but it was very distinctively shaped so as soon as I got back to the car I had a peek to see that it was "Shutlingsloe" which I had heard about a few times but had never climbed, I put it on my to-do list!!
As I took a few photos in different compositions I noticed on the ground engraved 6 numbers 995759 I instantly presumed it was the grid reference of where we were and dint really think anything else of it until I got home and plotted it on the map. It was in fact the grid reference to Cats Tor, odd I thought.
Like an Image?
get in touch to discuss usage rights
So I did a few more Google searches and found that there is a few of these numbers etched over the Peak District and "Doug Brown" has published a book "Dark Peak Hikes Off the Beaten Track" which covers 20 hidden engraved numbers / grid reference with clues across a 20 mile course which really appeals to me and im going to buy the book!
As the sun was setting I got some great exposures this is my favorite shot of the day and I decided to name it 995759, can you spot the numbers ?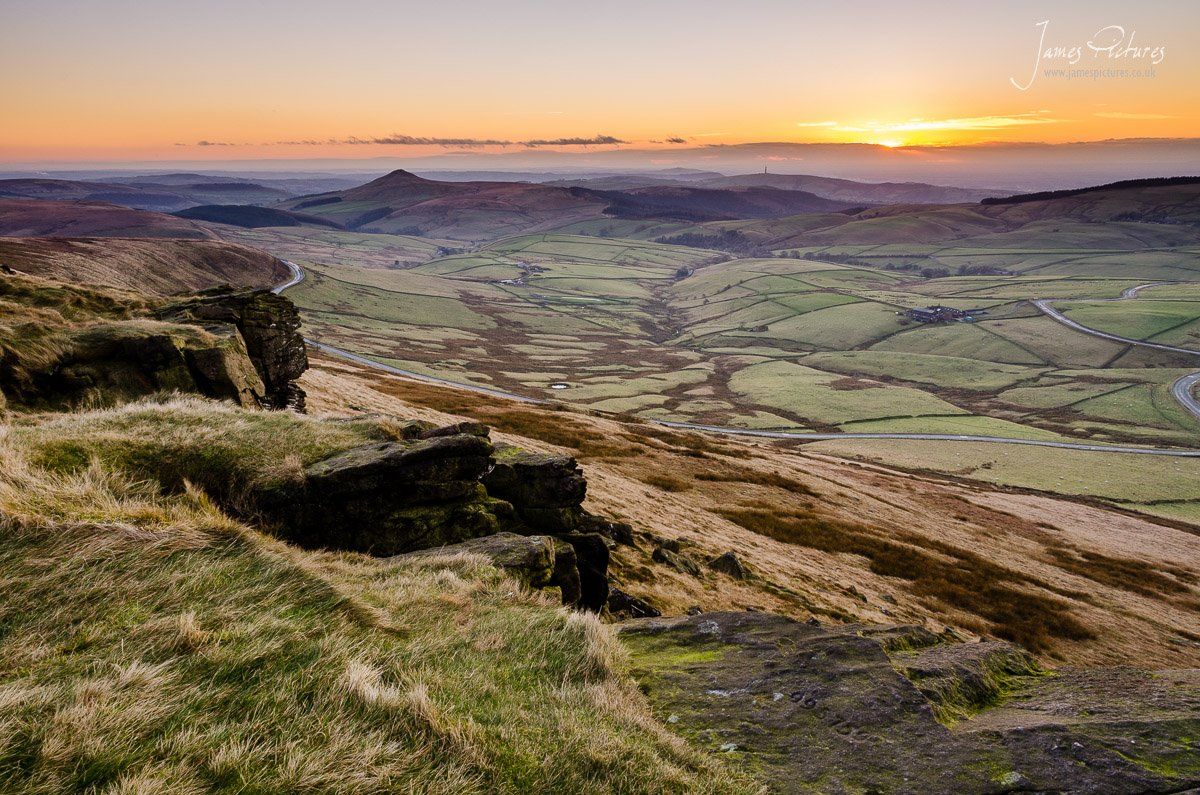 I ended up staying on Shining Tor until dusk and walking the 30 minutes back to the car park in the dark under my head torch, I thoroughly enjoyed my self, albeit a little cold and exposed.
I was looking forward to tomorrow morning as I was out again, to Shutlingsloe but that's another adventure.