Ive said this a few times recently… "My first visit", well this was the first time I spent a morning on Curbar Edge In The Peak District and I find my self saying it more and more these days and its all due to photography, because I know for a fact that I would have never have been to these beautiful locations if it wasn't for there picturesque locations and Curbar Edge is no different!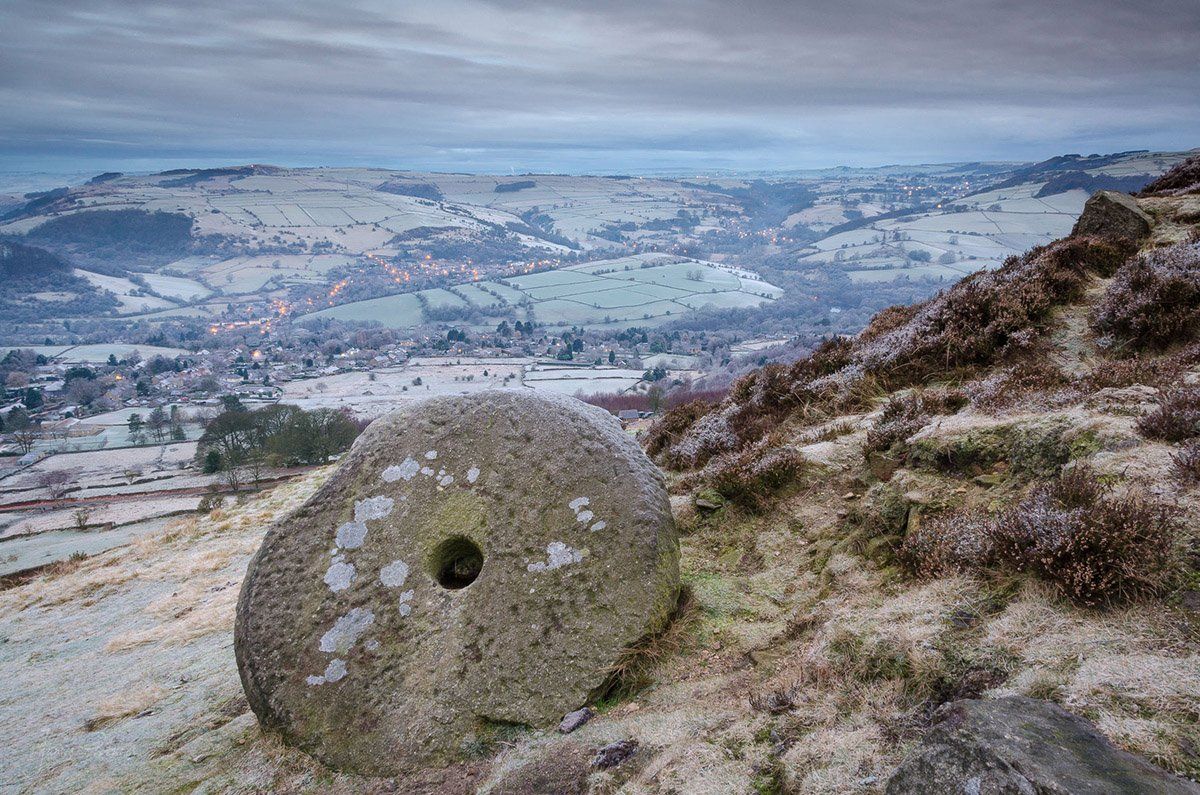 I have been to Baslow Edge which is less than 500 metres from Curbar Edge the only thing that separates the two is the old Roman road that divides them known as Curbar Gap.
Curbar Edge stands proud above the village of Curbar which its self is 5 miles North West of Bakewell in the Peak District on clear days the Chatsworth Estate can easily be seen in its glory. The area is very popular with walkers, climbers and photographers for its beauty and its why I was drawn to the location as well.
James Grant showed me around Baslow Edge first back in March 2012 when we did a days tuition and I had also been back once myself for a Sunset shoot back in November 2012 but ended up getting some lovely moon shots from instead, so when I returned again in January 2013 I decided to venture the opposite way to the more popular Curbar Edge.
I say more popular simply because when I have been to Baslow Edge you can see tripods set up on the highest point at Curbar and the majority of the pictures on Flickr will be from Curbar as well.
I set my alarm for 6am as sunrise was 08:20am which is a nice time to be fair and gave me an hour to drive there and then another good hour to scout for some compositions as I had never been.
The weather forecast was cold and cloudy with some low lingering fog in the low land, I wasn't expecting a sunrise because I knew from the last time that I came that the sun came up from behind the face of the rocks… I was hoping on some fog action!
Photographers love fog and mist as it adds drama to there images so I was a little disappointed initially because when the light started to brighten things up I could see the fog way down the valley way past Chatsworth, more in the location of Beeley and there was none at all where I was.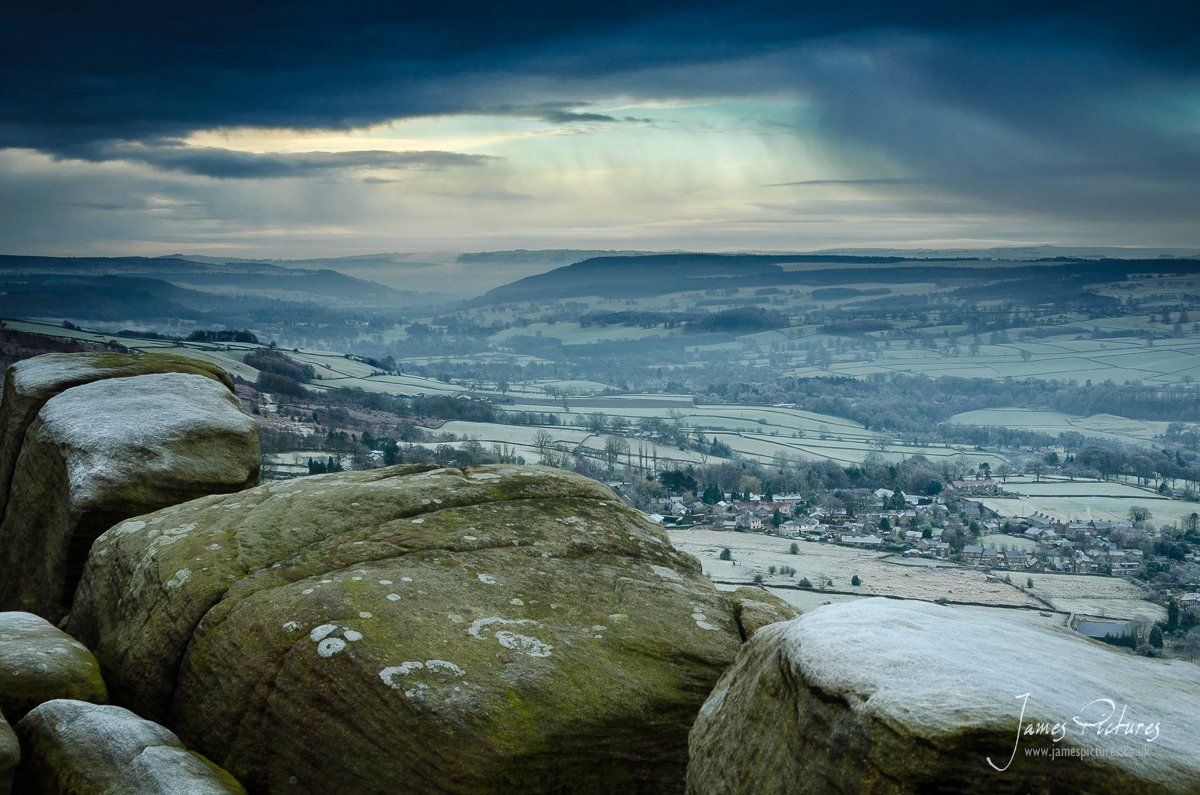 I took a few pre-sunrise shots and I try to get the shutter at no more than 30 seconds, any more than that and I have to start getting the cable release out! I find at 30 seconds we can get some good movement in the clouds.
I waited on the top of Curbar Edge at the highest point, and there was another photographer there too (no surprise) he was on his way to work so couldn't stop to long, we waited for the sun to come over the horizon but it just didn't materialize. the sky turned purples and pinks but was hidden behind the clouds.
After 10 minutes he bid me farewell and left. I decided to move along the ridge on my quest to find millstones. I had been told there was plenty of them along the edge so I started to look. As I moved along the edge I took different shots for future reference and its good practice for me too. I must have walked a mile along the top and I had found 3 millstones so I was happy. I have no idea how many there is along Curbar Edge?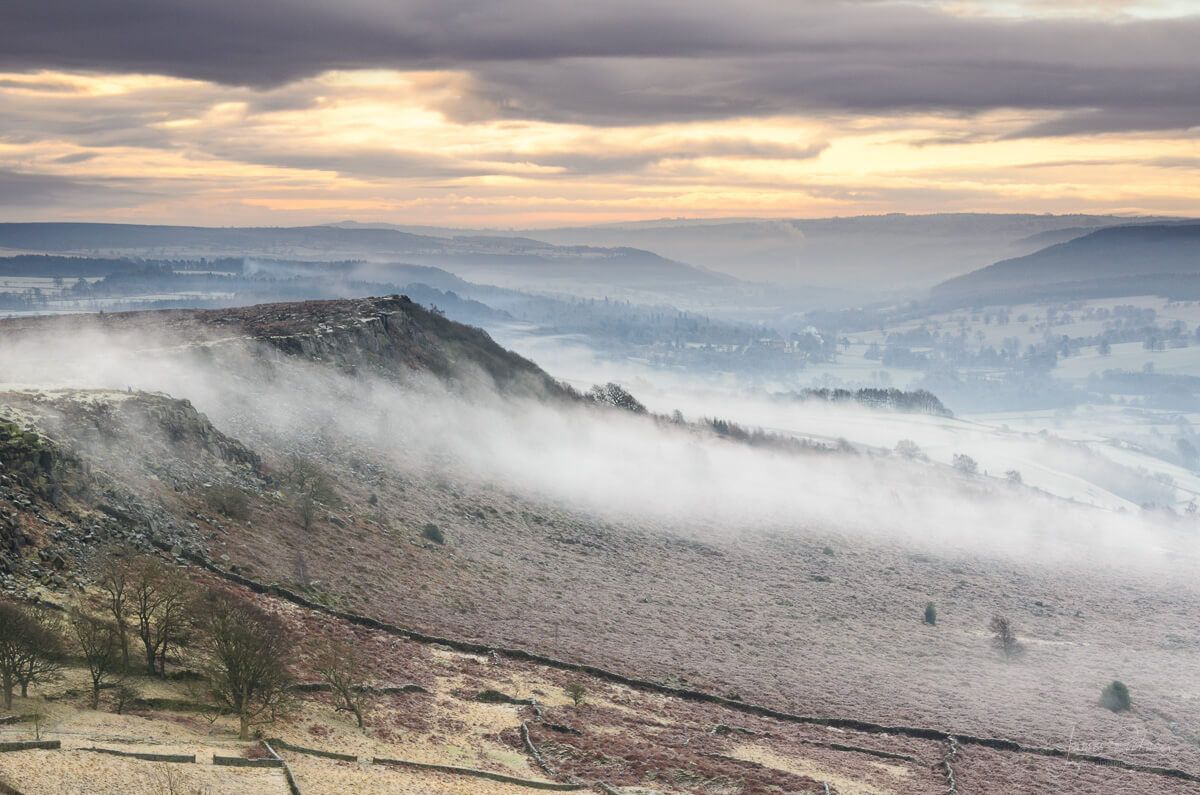 Do you Like an image on this website?
Drop me an email and we can discuss how you can use my images on your website, article or products.
As I reached my turning point I waited to see if the light would make an appearance but it wasn't looking good, in the valley below the trees had a nice coating of ice so I was hoping the sun would cast some nice light onto them, but it wasn't to be. I did find an interesting carving on one of the rocks and I named it "7 Years in Love" im sure it has been there for a very long time and been photographed hundreds of times.
I just liked how the frost had bitten into the gritstone rock and the lettering was very prominent than normal.
After an hour had passed after sunrise I decided to start heading back to the car and as I walked back I found another millstone yeah!! 4 in total and I must have stood on it too as it was right on the path!
As I got back to the highest point on Curbar Edge to my surprise I noticed that the lingering fog that was down past Chatsworth had slowly drifted along and was creeping up the side of Baslow Edge. With no time to spare I managed to quickly compose a few shots as it crept though a cutting on Baslow before dissipating on the top. I was happy!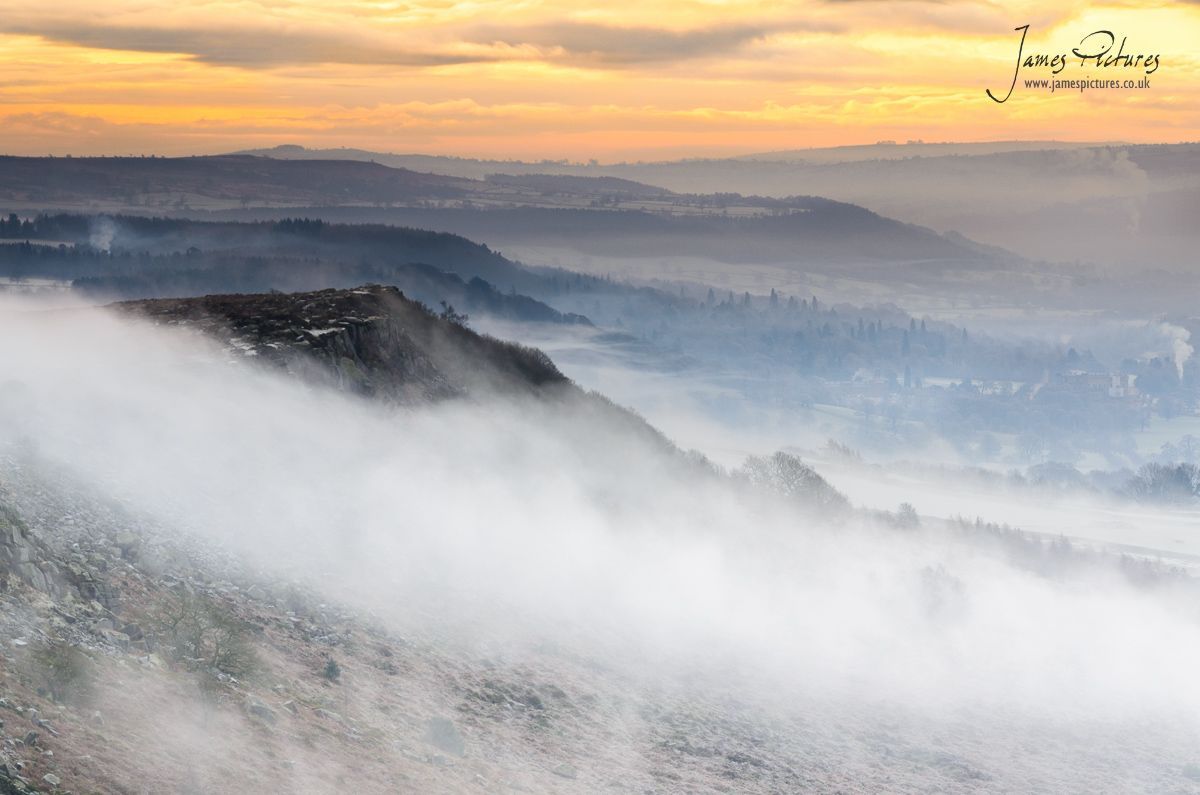 Before I left I couldn't not visit Baslow Edge, daft not to I had a quick walk over and got chatting to a fellow photographer from Norfolk who was on a short 3 day visit and we got talking about small mirror-less cameras as his set up was tiny compared to my medium format DSLR. I have been thinking of getting a smaller mirror-less camera for some time, but im just a little unsure yet, I want to get my D7000 sorted first before I buy anything else. That's another story!
I left Curbar Edge very happy that I had a few potential nice images, and it was a joy to spend 4 hours just exploring and watching the weather change. I will return im sure for many times but this first visit was worth recording and sharing.
Thanks for reading.