Chrome Hill along with Parkhouse, Hollins and High Wheeldon are the oldest exposed sedimentary limestone rock formations in the Peak District National Park formed over 300 million years ago and deposited over a period of about 20 million years into a shallow tropical sea.
Like an Image?
get in touch to discuss usage rights
In between these characteristic limestone hills are stunning dales and valleys of the Upper Dove Valley and the more commonly know Dovedale. I often frequent both dales on my visits to the Peaks as both of the dales are located in the White Peaks which I pass though heading North.
The distinctive shape of Chrome Hill is often described as the "Dragons Back" and is best viewed from the North at Tor Rock looking South in my opinion, especially at sunrise whereas Parkhouse Hill is described as having a shark tooth look to it and is best viewed  "Parkhouse Hill – Shark Tooth" like appearance.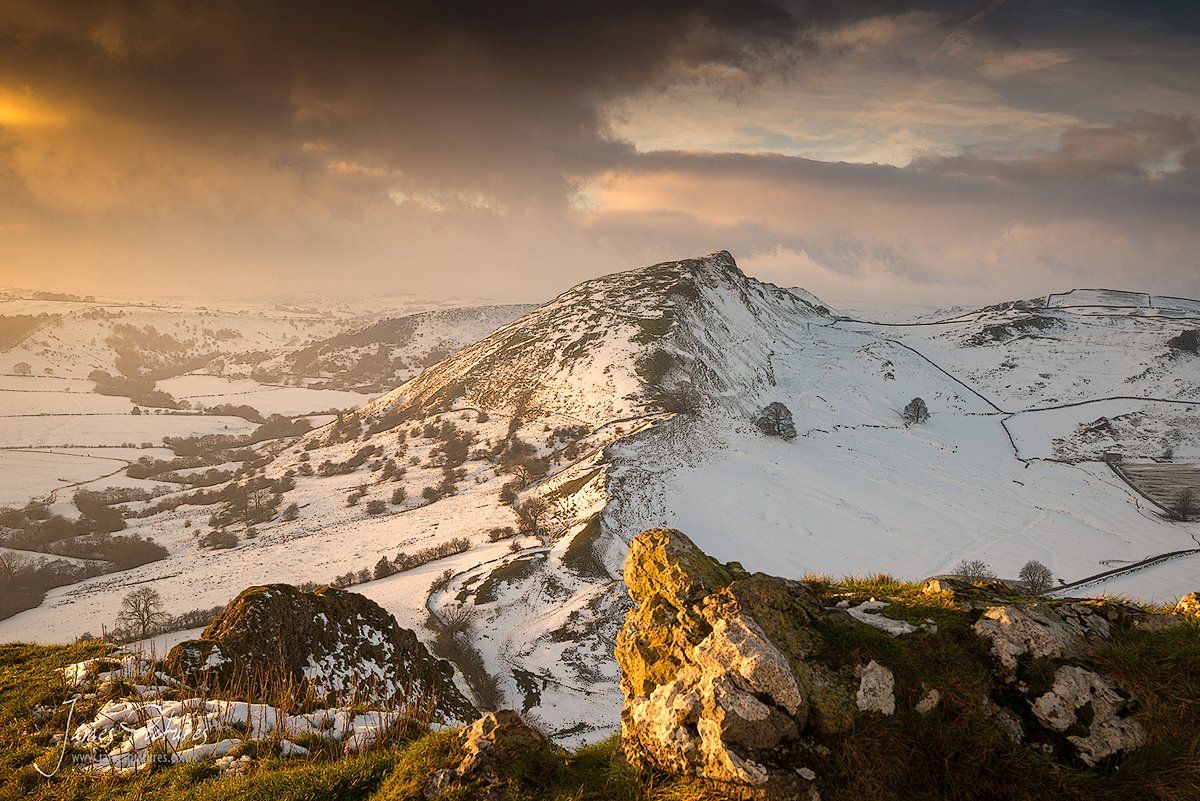 Whilst im personally not that interested in the Peak District Geology side of life, not yet anyway. I am interested in the history. It is an area with wonderful diverse historic past, Today such features are perceived as adding to the richness of the landscape, generations prior to us struggled to make a living from these often harsh and uncompromising landscapes that we admire so much today and it is one of the reasons we all admire such a wonderful place as the Peak District, England's first National Park.
I've been lucky enough to admire Chrome Hill most of my life as it can be seen from the A53 Leek to Buxton road from the region of Axe Edge, one morning I was out in the snow and the most stunning sky transformed before me whilst I was at Axe Edge, cars were stopping as drivers jumped out to take pictures with there mobile phones, I was fortunate enough to have my Nikon with me and captured some great shots and witnessed one of the most amazing sunrises in my life looking out over towards Parkhouse & Chrome Hill.
It wasn't until a few months ago (December 2015)  that I decided to go up on top of Parkhouse Hill for the first time, its a short and sharp climb to the top I recall scrambling up the side in fact and I defiantly had to stop for a breather carrying my camera gear once I got to the top, but it was defiantly worth it for the views over towards Chrome Hill.
I'm sure it wont be my last visit to Chrome Hill, If your thinking of going for a look, its not that easily accessible and requires at the minimum 40 minutes walk I would suggest parking at either Hollinsclough to Chrome Hill Walk or Earl Sterndale to Chrome HIll Walk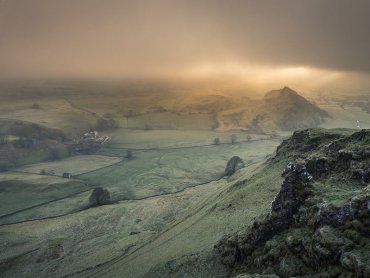 A wide angle shot looking over to Parkhouse Hill from Chrome Hill with the limestone Pinnacle in the foreground.
...
Select options