So last Thursday I decided to give The Roaches in Staffordshire a visit.
Its not far from mine I live in all fairness a short 30 minute drive away but I've always neglected The Roaches for Landscape Photography simply because when I first started shooting the weather was always so unpredictable and there was other places where you could guarantee a good shot.
As the years have passed I have always admired other photographers scenes from The Roaches and kicked myself for not being persistent enough.
So 2016 and I have a bit more free time on my hands I decided to give The Roaches some attention!
I arrived early as us photographers tend to do, it was a good 40 minutes prior to sunrise and I was up on top already, huffing and puffing unfit and out of breath carrying a heavy rucksack full of camera gear I took a rest and asked myself if this was really worth all the hassle and to top it all of the view wasn't great!
I was a little unsure where to go initially and I headed up to Doxey Pool on top, I waited in the mist and I could hear voices but couldn't see anyone, then 2 ladies came walking past me "Morning" I couldn't actually believe it, it was half past 6 in the morning!
After a few minutes I composed myself and decided to head back down to a better vantage point looking over towards Hen Cloud I decided to anchor myself in and wait.
Sunrise approached and passed without any change I still couldn't see 10 meters in front of myself, I was close to calling it a morning when at about 20 minutes after sunrise I could see the bright sun starting to come through the clouds.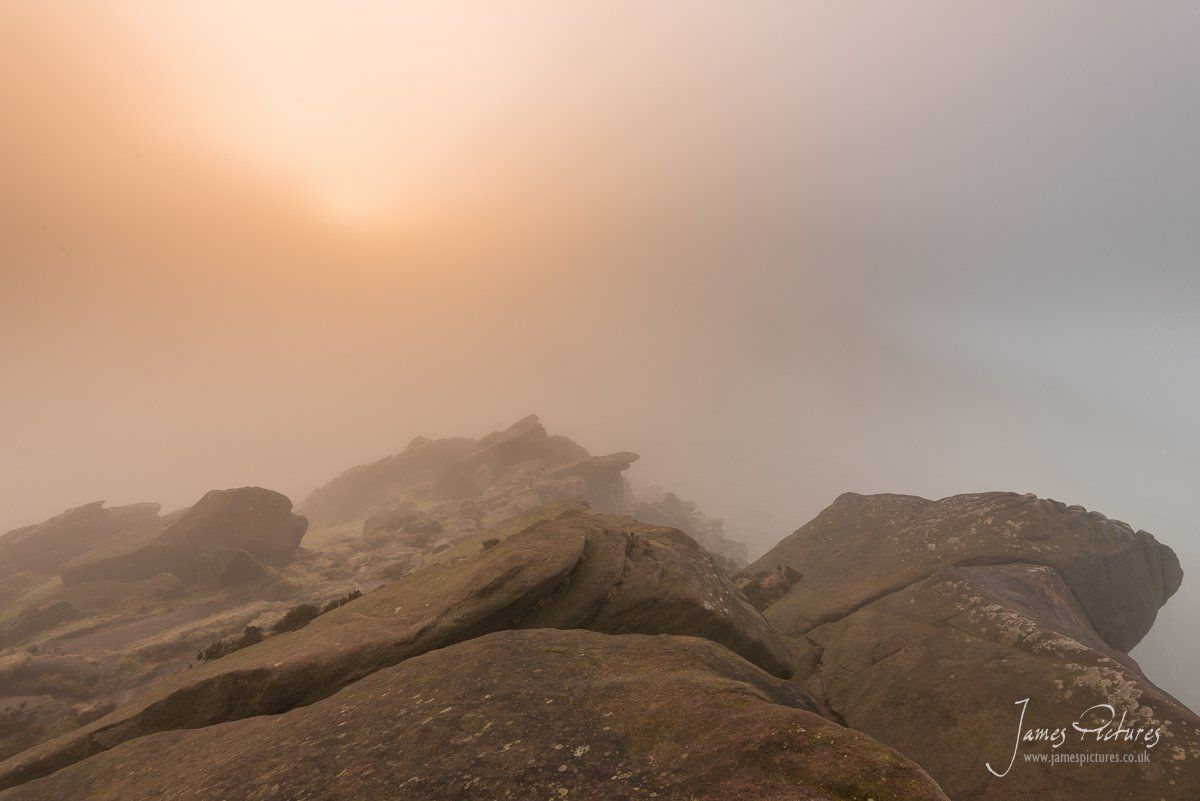 All of a sudden the clouds lifted…
It all happened so quick and I wasn't in the best place! My composition was not good, so I moved about 5 meters to the right into a better vantage point, I was like a big kid excited that what I was witnessing.
I have been taking Peak District Landscapes for about 5 years on and off with a break of 2 years in the middle. When I started I set out some goals and one of them was to try and get The Roaches under a full cloud inversion, I have seen very few images of this occurrence and I'd be comfortable in saying that it probably only happens a few times a year and if your extremely lucky to be in the right place at the right time, you will witness a truly wonderful and beautiful thing, today was my day!!.
Its all about being in the right place at the right time!
All of that doubt in the beginning when I arrived turned out to be the best morning shoot I have had in years, I was in my element.
The low cloud would come and go through the gap between Hen Cloud and myself, the wisps of mist making shapes and clinging to features the sun was rising fast and getting brighter and brighter trying to burn off that mist, I decided to get one more shot before moving to another vantage point and in my opinion this is the best shot from this great morning.
I decided that I had enough shots from this vantage point, I was situated at the end of the gritstone edge so compositions from this vantage point were few and far between, so I grabbed all my gear and huffed and puffed the short 15 minutes walk up to Doxey Pool hoping that not to much of the low cloud had dissipated under that harsh sun.
Fortunately enough it hadn't but I could see much looking towards Hen Cloud as the clouds were ebbing up through the pine trees below obscuring the view down the gritstone edge, so I decided to concentrate on Doxey Pool briefly opting for a different take on a popular photographed pool.
After 5-10 minutes I was presented with another great shot of a pine tree down below me, as the mist cleared and the sun caught it, I couldn't resist composing a shot as it looked so unique.
I had now witnessed one of my Landscape Photography goals, a cloud inversion at The Roaches I was a happy man! I walked slowly down towards the car past a man walking his dog and we briefly stopped to say good morning, and what a morning.
I kept on stopping looking out over towards Tittesworth Reservoir but you couldn't even see it under the clouds.
I stopped lower down and grabbed a few more shots of the mist over the open Staffordshire countryside, one in particular that I liked was of Blakshaw Moor village as the mist swirled around just revealing enough of the houses.
Thanks for looking and just remember, you have to be in it to win it and you won't go far wrong with Landscape Photography, when you think its not worth venturing out you will be disappointed as you look out the window to see a stunning sky! I should know ive done it enough times.