It was the 1st of December 2012 I had just returned from a sunset shoot on Shining Tor and sat down to look though the pictures on my PC most people my age would probably be in the pub by now socializing the weekend away, me on the other hand was contemplating on charging my camera batteries and planning a sunrise at Shutlingsloe in the Peak District.
I checked the weather forecasts and it looked good, really good but somewhat cold. I checked over all my kit and re-packed my bag and cleaned my filters and lenses.
I then pondered for 5 minutes about where to go
Sunrise at Shutlingsloe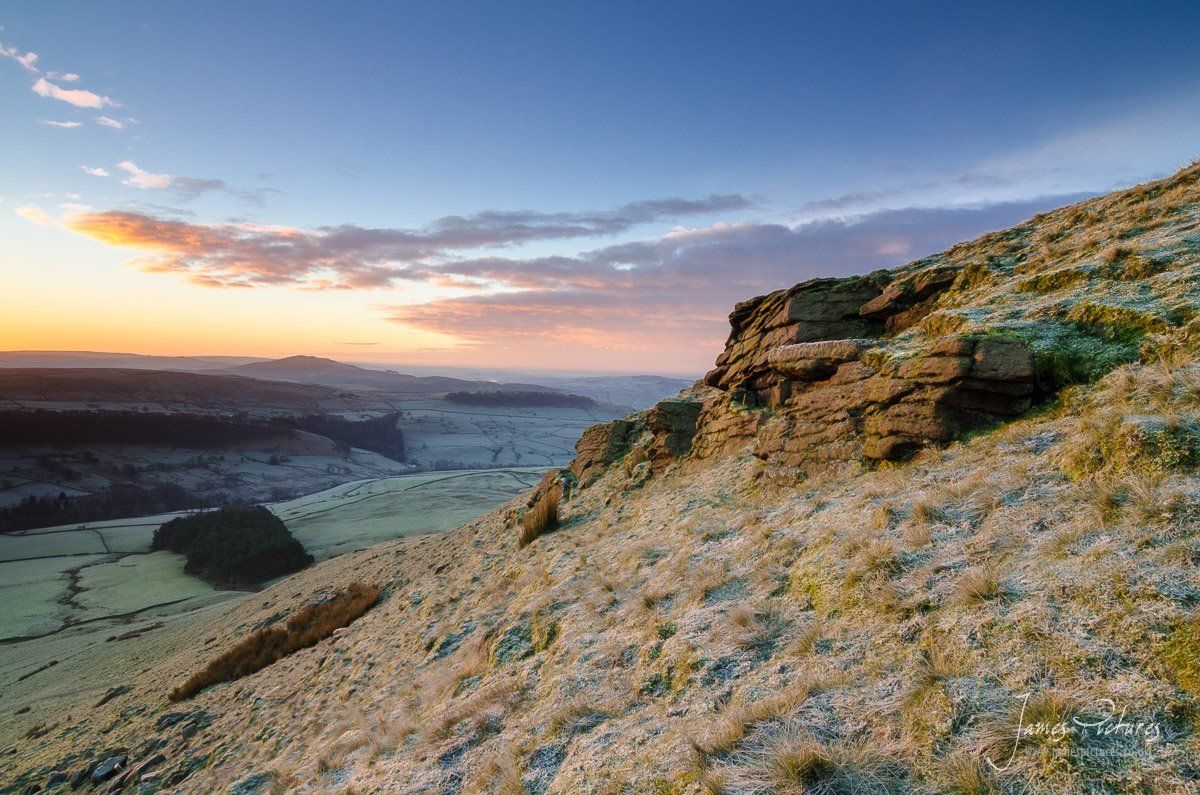 I decided upon a Sunrise at Shutlingsloe in the Peak District simply because I had never been to that region before and at 506 meters high it is the 12th tallest hill in the Peak District so I knew a good view was on the cards.
Shutlingsloe is also described as the "Matterhorn of Cheshire" because of its distinctive shape. It is also the 3rd tallest hill in Cheshire with dominating views out across the county and on my visit I had 360 degree panoramic views out to about 11 miles.
Like an Image?
get in touch to discuss usage rights
I parked the car at Clough House car park which is free and made the 25 minute walk slowly but gradually up the hill, it starts of very easy going but gradually gets more intense and my legs were burning by the time I reached the top.
I arrived with about 10 minutes to recover from the climb and gather my wits and quickly look around for some compositions, the sky was already glowing pink and purples so I knew the sun would show at any minute.
I was the only person on the hill for 20 minutes and whilst I was glued to my camera I looked back to the Triangulation Pillar to see 2 other gentlemen admiring the view, they must have approached from Macclesfield Forest, and I started to ask myself if it would have been easier coming that way next time!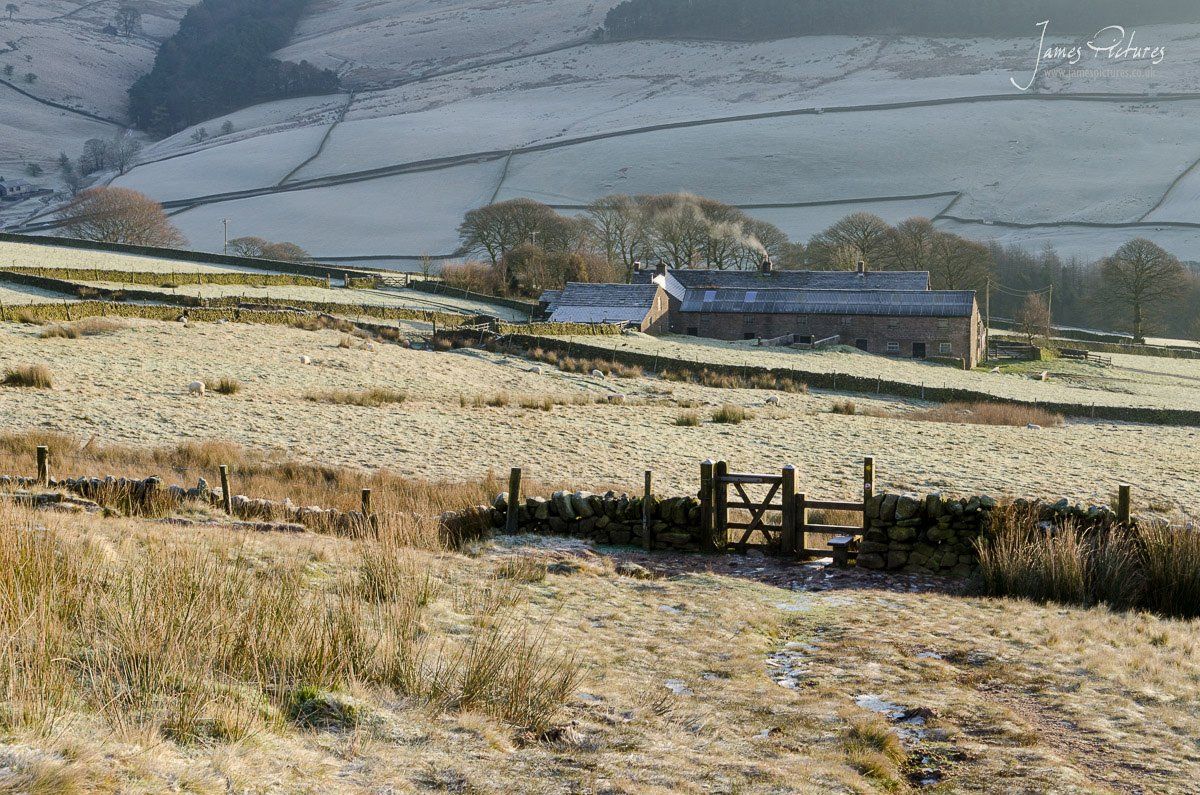 I stayed on the summit for 30 minutes watching the sun make some amazing light and shadows in all directions I didn't know where to look at times, I was also surprised when I looked West over Cheshire to see Jodrell Bank glowing in the sun 11 miles away!
Eventually I decided to make my way down slowly. It was a good job the ground was frozen solid because it would have been a very different slippery story in wet conditions!
On the way down I grabbed a few more shots, a nice one of Shutlingsloe Farm and another generic shot of the dominating height that is Shutlingsloe before the wife phoning me to ask where I was and what time was I coming home. I had promised to help set the Christmas tree up with our daughters and they were getting upset that I was not there.  I promised I would be home for 10:30am!
I really enjoyed watching the sunrise, its one of those magical moments that happens every day that most wont think about as they sleep. I will certainly be seeing a few more that's for sure.
This is a map of the route where I parked the car and the route I walked and it also shows the position of Jodrell Bank to Shutlingsloe.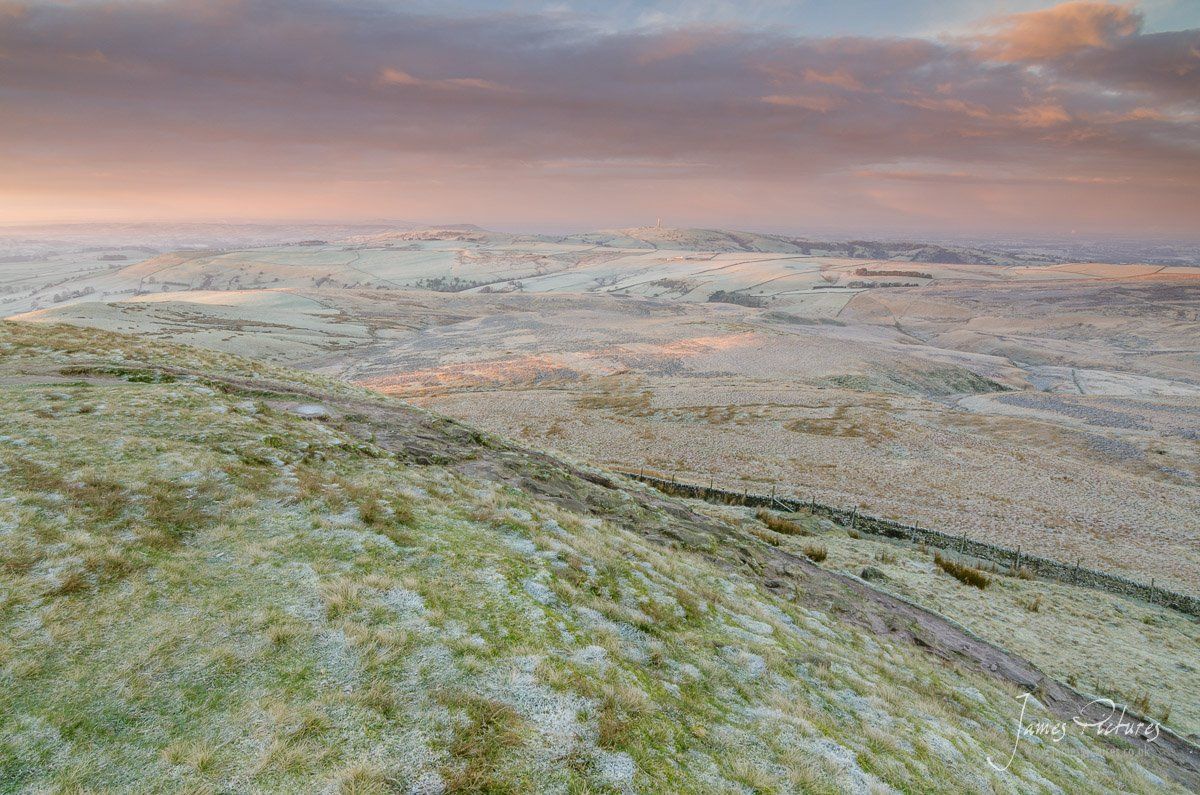 Thanks for reading.
Please do not pinch these images, they are copyrighted. If you would like to use any please feel free to contact me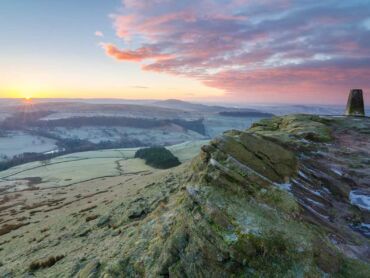 A glorious sunrise from Shutlingsloe in Cheshire. The ground frozen hard looking onto the Roaches in the far distance.
...
Select options