I have visited Peaseland Rocks & Wolfscote Dale in the Peak District back in January when I decided to walk Dove Dale in the Snow, I have walked Dove Dale lots of times but never Wolfscote Dale.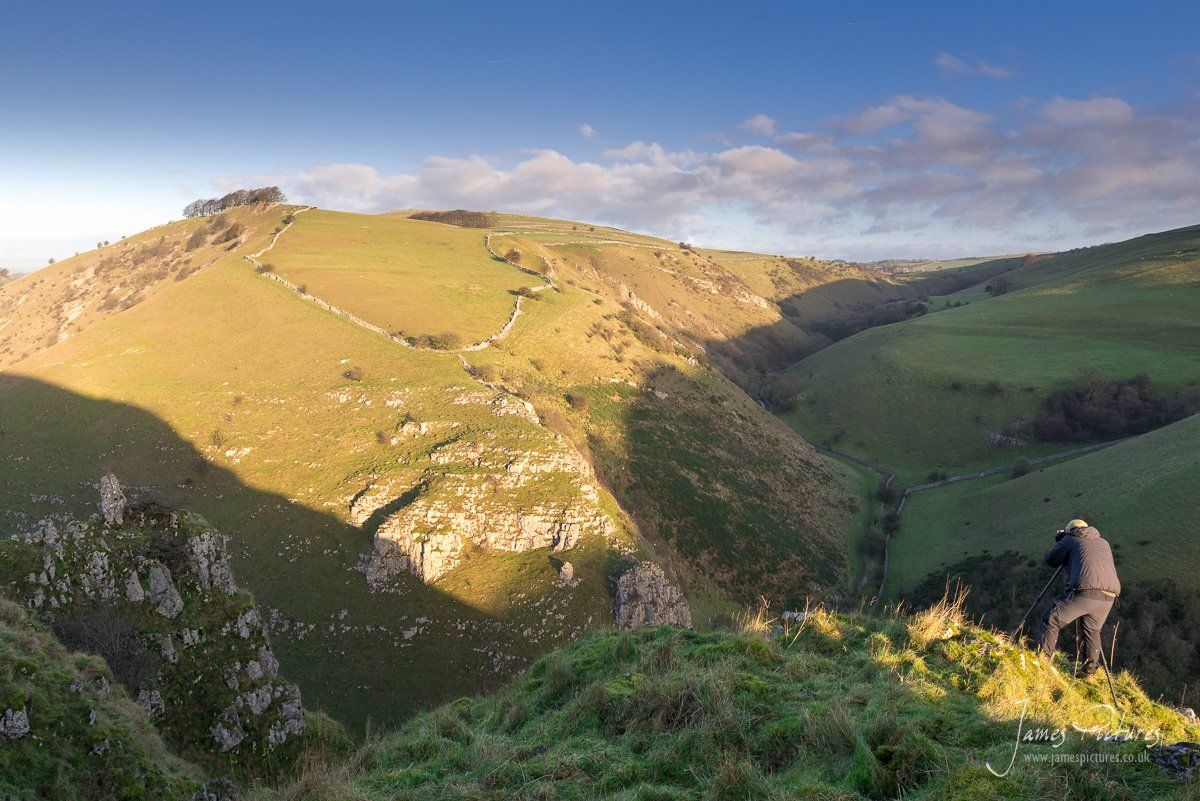 After a friend posted an image from Wolfscote Hill it motivated me to plan a 7 mile round walk starting in Alstonefield Village heading towards Peaseland Rocks and then onto the stunning Wolfscote Dale taking in the spectacular views of  Drabber Tor, The River Dove, Wolfscote Hill and last but not least Gratton Hill.
I've been working hard all summer and have not been able to get out as much as I would like to, but such is life. I work long rotations 21 days at work then 3 days at home, and when at home I will spend it with my wife and children. Time is precious to me right now so finding the balance is not easy.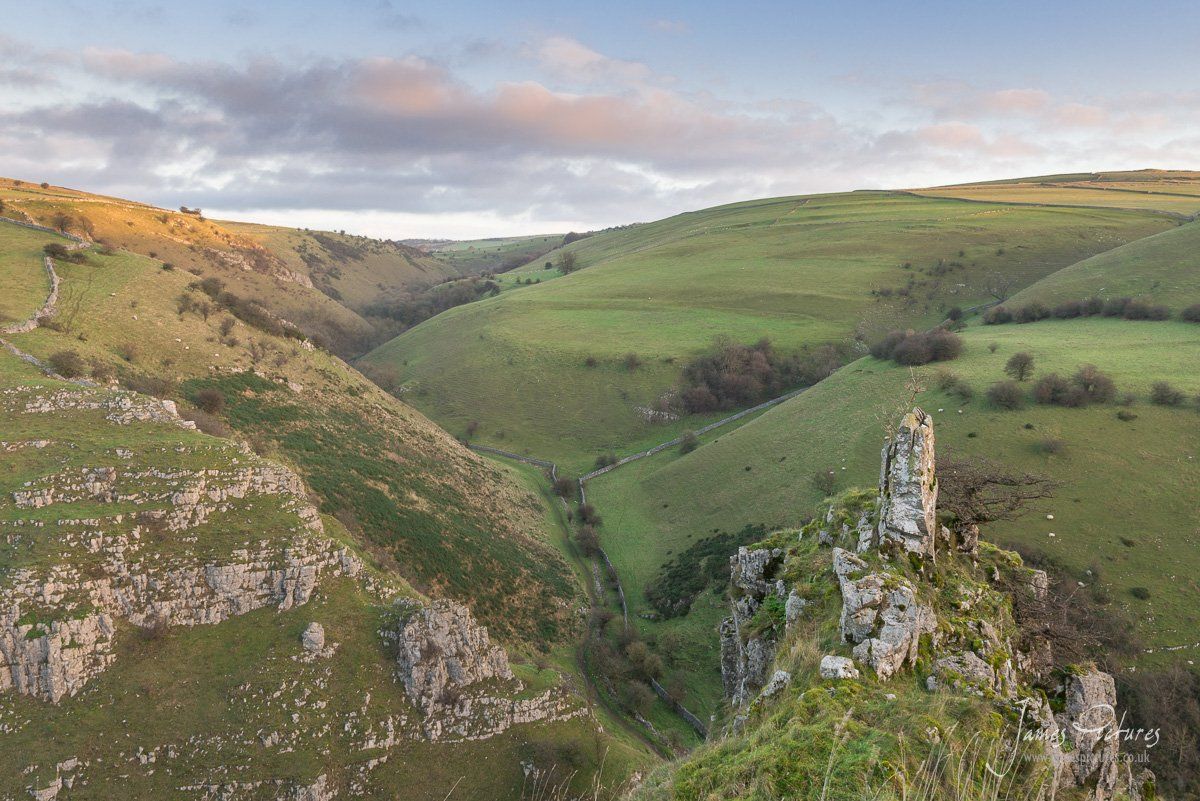 I got the Ordinance Survey OL24 Map out and started planning a route to do both in one go. I wasn't sure to walk from Hartington Village via Beresford Dale or from Milldale Village. In the end I did neither!
I parked at Alstonefield Village and headed in via Gipsy Bank for this route because I wanted admire Drabber Tor from Peaseland Rocks.
Wolfscote Dale
Wolfscote Dale is a limestone gorge carved by the River Dove over millions of years. It's also a Site of Special Scientific Interest with steep slopes either side and is a tricky place to photography and is probably why there are not many Landscape Photographs of the area.
One factor that we couldn't plan for off site was that the sun does not rise very high in the winter so we knew that sunrise would be somewhat slow as it had to climb over Iron Tors in the South before it hit the valley of Wolfscote Dale, never the less we were there an hour early as we had never been and wanted to be in the right place at the right time to catch the golden hour.
Sunrise was at 08:20 hrs and it was a 35 minute drive from home. It was a rewarding change to have a fairly late sunrise, Sunrises in the summer can be 04:00 hrs so winter is good for late sunrises but I do find that the contrast on the landscapes can often clash making it harder to distinguish the lay of the land.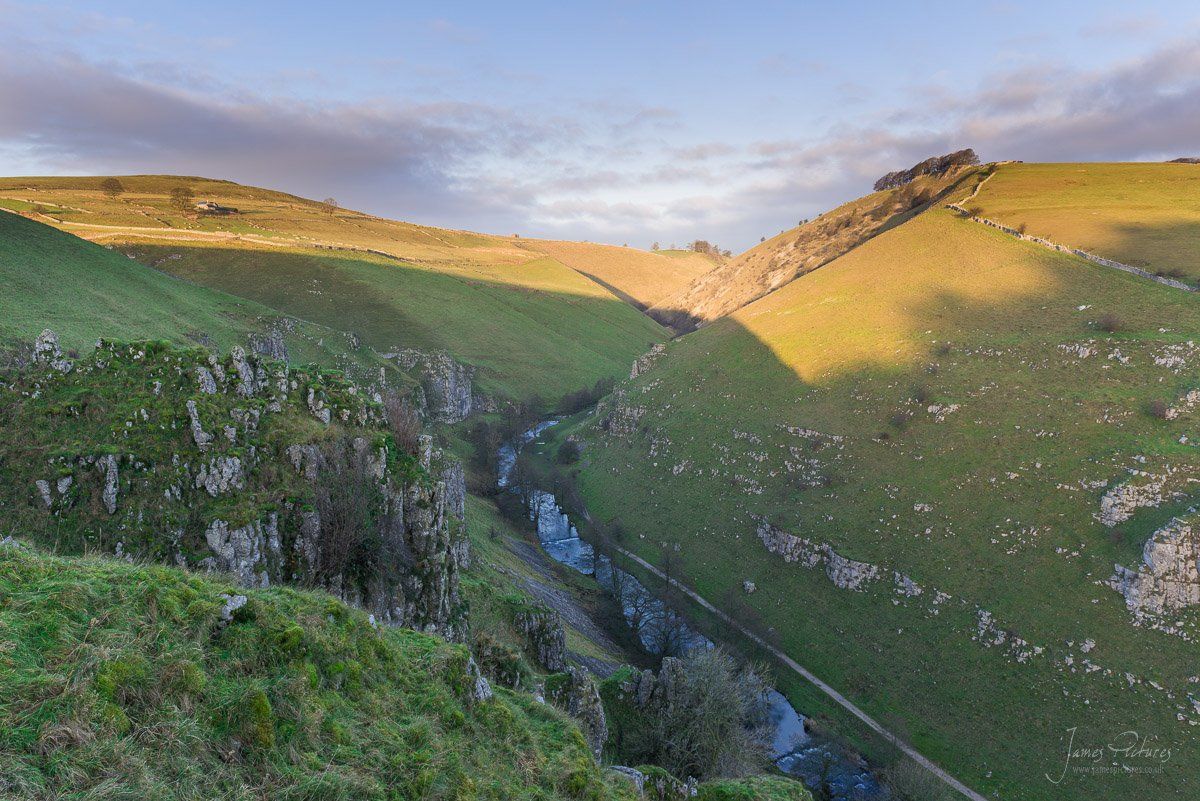 The suns rays eventually started to light up the hills at about 09:00hrs and we managed to get some nice side light.
Like an Image?
get in touch to discuss usage rights
Peaseland Rocks
Peaseland Rocks doesn't even show on the Ordnance Survey Maps, I know it is there from fellow friends and again its a hard one to photograph. You can see the rock formation in the middle distance on the river bend below.
The only other angle I have seen this rock formation photographed from is from the banks of the River Dove, but the dense trees makes it hard to see.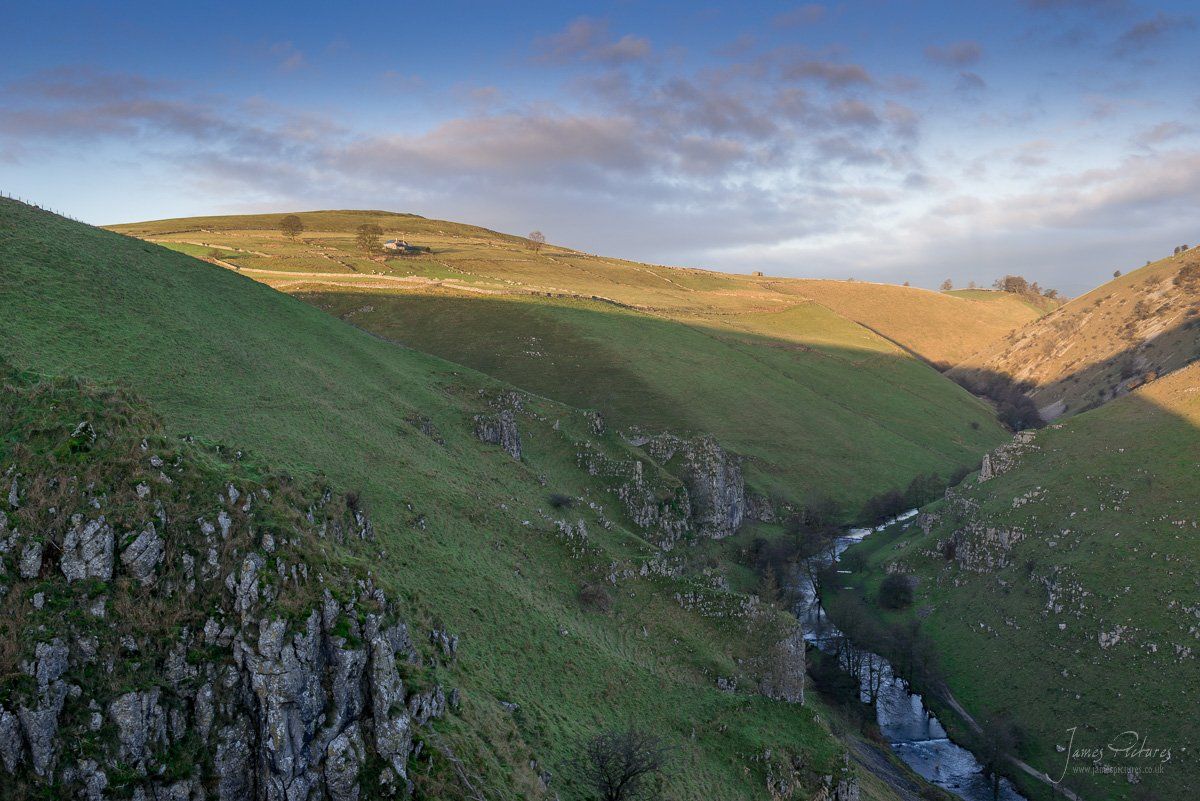 Wolfscote Hill
After walking Wolfscote Dale I veered of and walked up a single tracked lane towards Wolfscote Hill, Its a steady gentle climb all the way to the summit though a farmers field.
The first thing you notice is the abundance of limestone rock formations scattered all around. On my visit it was extremely windy on top so after putting on my warm kit I had a good look around.
You can get 360 degree views from on top but the best views happen to be of the South West back towards Gratton Hill and Narrowdale Hill and of the South looking back towards Wolfscote Dale, which I didn't photograph because the sun was to bright and I will save that for another day!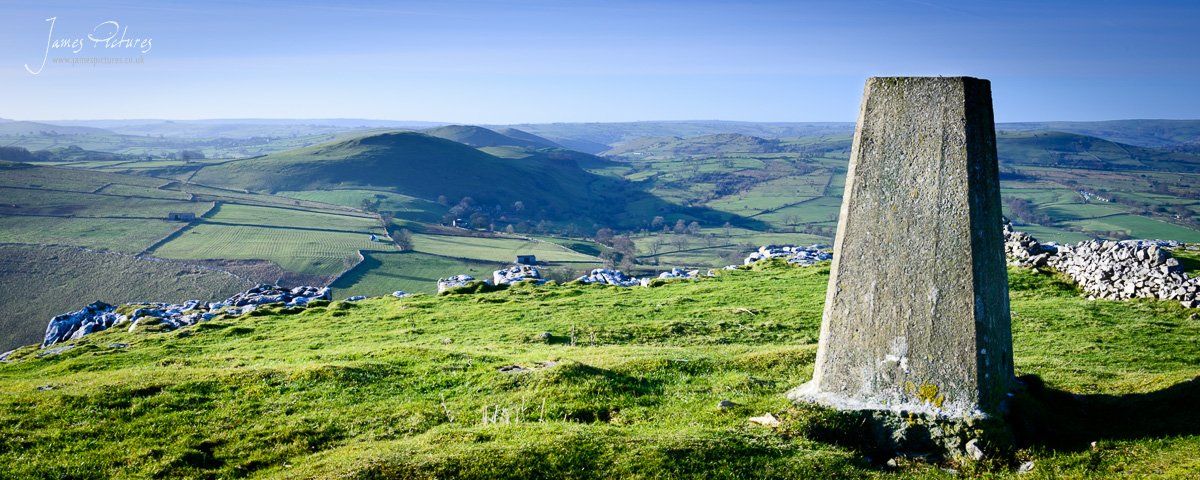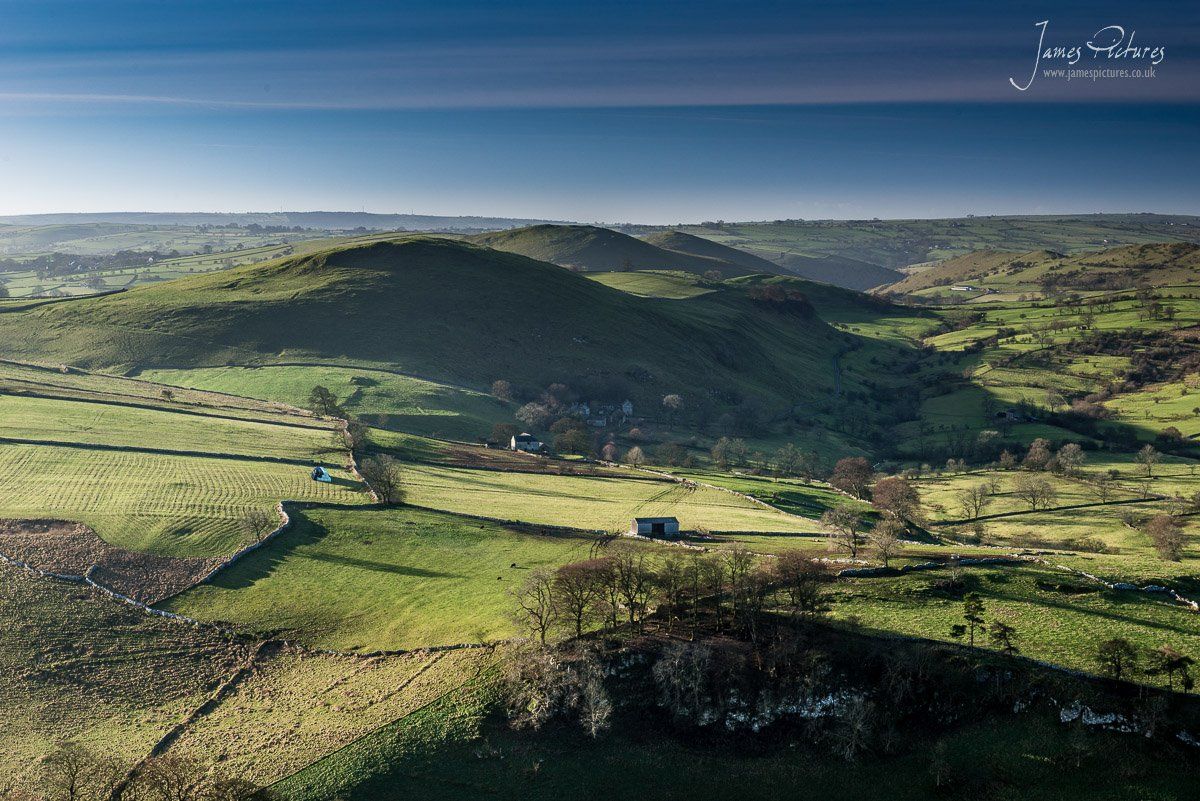 I thoroughly enjoyed exploring this part of the White Peaks. Its defiantly a part of the Peak District that I will re-visit to do more Landscape Photography.
I woke this next morning and my legs were aching a little, its been a while since I walked 7 miles carrying 30lbs on my back, never the less I loved it!